The Latest: Ex-Catalan leader pens open letter from prison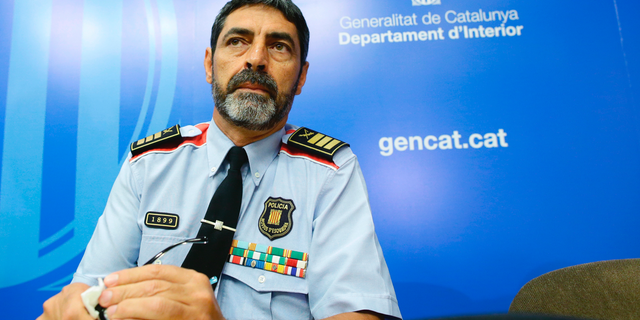 NEWYou can now listen to Fox News articles!
MADRID – The Latest on Catalonia's political struggle with Spain (all times local):
1:40 p.m.
Former Catalan separatist leader Carles Puigdemont has written an open letter from a German prison, urging Catalonia's parliament to make another attempt to elect jailed separatist activist Jordi Sanchez as the region's president.
Puigdemont had proposed Sanchez — his No. 2 in the Together for Catalonia party — last month, but Spain's Supreme Court refused to free him to attend a parliamentary session.
The separatist majority in Catalonia's regional parliament had wanted to elect Puigdemont as Catalan president, but he fled to Belgium to escape arrest in Spain on rebellion charges for his role in the region's push last October to break away from Spain.
Sanchez said in a letter from a Madrid jail published Thursday that he was ready to try again to be elected.
The separatists' maneuvers come after a string of setbacks for their ambitions since October, with Spanish courts blocking moves toward independence and bringing charges against the movement's leaders.
___
12:15 p.m.
The former chief of Catalonia's regional police and other regional security officials have been charged with sedition over their role in events leading last year to a banned independence referendum.
In an indictment Thursday, Spanish National Court Judge Carmen Lamela says former Mossos d'Esquadra chief Josep Lluis Trapero was part of an organized plan to seek Catalonia's secession from Spain.
Two more members of the regional police and an official with the regional interior department were also indicted.
Trapero was hailed in Catalonia as a local hero for the handling of deadly extremist attacks in and near Barcelona last summer.
He then came under pressure when central authorities urged the regional police to stop the Oct. 1 referendum banned by Spanish courts.