The Latest: Confidante of ex-SKorean leader arrives in court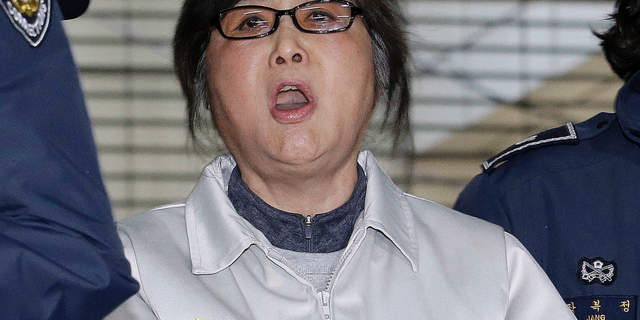 NEWYou can now listen to Fox News articles!
SEOUL, South Korea – The Latest on South Korea's political corruption trials (all times local):
2 p.m.
A confidante of former South Korean President Park Guen-hye has arrived in court to hear the verdict in her political corruption case.
Choi Soon-sil emerged Tuesday from a police bus with flashing lights and entered the court in Seoul. She has been jailed during her trial.
Choi is charged with abuse of power and eight other charges stemming from her role in nonprofit foundations and a winter sports center that solicited funds from top South Korean companies.
The scandal brought down Park and has implicated business leaders from Samsung and other corporations.
___
11:30 a.m.
A South Korean court is set to deliver a verdict in the case of a woman at the center of an influence-peddling scandal that triggered the country's first presidential impeachment and the conviction of an heir to the Samsung empire.
The Seoul Central District Court says it will issue a verdict Tuesday afternoon. Choi Soon-sil, a confidante of former President Park Geun-hye, was tried on abuse of power and eight other charges.
The daughter of a religious cult leader, she was largely unknown until a series of revelations in late 2016 disclosed how she allegedly pulled government strings from the shadows. The revelations implicated Park and top business leaders, including Samsung heir Lee Jae-yong, and set a political upheaval in motion.
Prosecutors have requested a 25-year prison sentence for Choi.