Thailand troops deploy against anti-junta protesters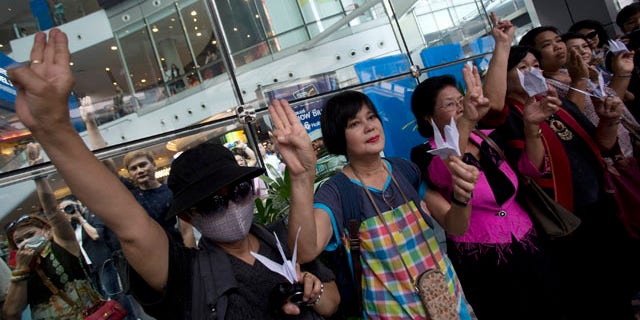 BANGKOK – Hundreds of demonstrators shouting "Freedom!" and "Democracy!" gathered Sunday near a major shopping mall in downtown Bangkok to denounce the country's May 22 coup despite a lockdown by soldiers of some of the city's major intersections.
The country's new military rulers had deployed thousands of troops and police officers to several key locations across the capital to prevent a series of expected rallies from gelling.
But protesters showed up at a site that lacked any mass army presence --an elevated walking beside the Terminal 21 shopping mall, chanting and holding signs saying "No Coup."
The mall's owners shut the nine-story complex and ordered customers out as scores of police and helmeted soldiers with riot shields took positions nearby. Two army trucks, including a Humvee mounted with a machine-gun, parked on a street outside, but moved away after crowds booed them.
"I am here because I don't want a coup. I want elections and democracy," said a 66-year-old female protester who asked to be identified only as Ratchana because of concerns over being detained.
"This is the 21st century," she said. "There shouldn't be any coups, but they still keep happening ... because Thais are afraid" to speak out.
Earlier, the crowd surrounded two plainclothes police officers who tried to detain one of the protesters. But after several minutes of shouting, the protester was released.
The army overthrew the nation's elected government late last month, claiming it had to restore order after seven months of demonstrations that had triggered sporadic violence and left the civil administration virtually powerless.
Since the coup, pro-democracy protesters have come out on the streets nearly every day, marching through Bangkok and scuffling with soldiers. No injuries have been reported, but the junta has warned them repeatedly to stop and there are rising fears of violence if the military employs force.
On Sunday, authorities closed several subway and elevated train stations where protests might materialize, advising commuters that services had been suspended temporarily "for your safety due to a situation outside."
Sunday's protests were organized by veteran social activist Sombat Boonngam-anong, who is a member of the grassroots "Red Shirts" movement, which had backed the now-ousted government and warned it would take action if there was a coup.
The army, however, has effectively silenced the movement's top leaders, detaining them and forcing them to sign agreements promising they would no longer take part in activities that could destabilize the nation.
Meanwhile, in the Red Shirts' northern strongholds, troops have been conducting raids, taking local leaders away and searching for weapons. Some have fled to neighboring countries.
Sombat, who has refused to reply to an army summons ordering him to report to an army base, has taunted the military by posting the call to protest on his Facebook page. He asked people to come in disguise for a "mask party" to protest against the coup." Protesters have started wearing masks with the faces of political personalities, including the country's new ruler, army chief Gen. Prayuth Chan-ocha.
Despite the latest political upheaval, life has continued largely as normal in most of the country, with tourists still relaxing at beach resorts and strolling through Buddhist temples in Bangkok and elsewhere.