Teen Daredevil Sneaks Into Still-Closed World Trade Center, Snaps Pictures From The Top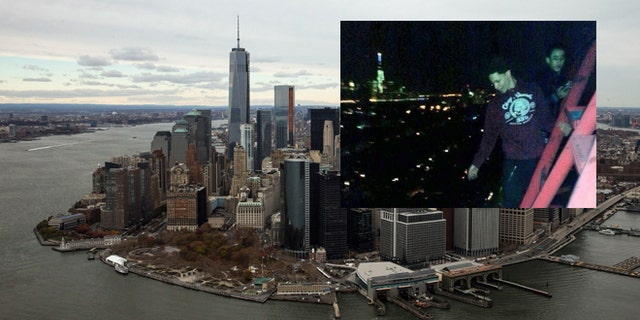 NEW YORK (AP) – In a move reminiscent of Frenchman Philippe Petit's 1974 tightrope walk between the Twin Towers, a 16-year New Jersey boy snuck past layers of security – including a snoozing security guard – to climb to the spire of New York's 1 World Trade Center, the nation's tallest building, where he apparently took pictures, police said Thursday.
Crawling through a hole in a Ground Zero fence at about 4 a.m. Sunday, 16-year old Justin Casquejo hitched a ride up to the 88th floor thanks to an oblivious union elevator operator, even though he had no ID. The teen then hiked to the 104th floor where he eluded a dozing security guard on the 104th floor; the guard has since been fired, Joe Pentangelo, a spokesman for the Port Authority of New York and New Jersey, which owns the trade center site, said.
It was not immediately known how the teen got to the 104th floor without being noticed.
"He came here and he ran hog wild," a stunned WTC worker told the New York Post.
Casquejo was arrested at 6 a.m. Sunday and charged with misdemeanor criminal trespass, Pentangelo said.
Port Authority police arrested him on the premises. His camera and cellphone were seized after authorities obtained a search warrant.
Speaking to the New York Post, Casquejo, who lives in Weehawken, N.J., laughed about his escapade earlier this week. His Twitter feed is filled with posts of him scaling building cranes and photos of him perched on top of construction sites.
"Ha ha, oh yeah, that. Right. I would really love to talk to you guys because I have a lot that I want to say about it," he said. "I was told that I just can't [talk] without permission."
Authorities were still trying to determine Casquejo's motive. WABC-TV reported that he took pictures from the top of the building, where he stayed for about two hours.
The investigation was continuing into whether the teen may have entered other parts of the building.
"We take security and these types of infractions very seriously and will prosecute violators," Joe Dunne, chief security officer for the Port Authority, said in a statement. "We continue to reassess our security posture at the site and are constantly working to make this site as secure as possible."
The tower is scheduled to open later this year.
When completed, the World Trade Center site will have a $40 million security system, including barriers, guard booths and sally ports, or double-barrier systems creating areas to check vehicles for dangerous materials.
In February, a judge rejected a lawsuit challenging the security plan brought by nearby residents who said it would burden their neighborhood with fortress-like security.
The Associated Press contributed to this report.
Follow us on twitter.com/foxnewslatino
Like us at facebook.com/foxnewslatino