Tax Returns by Illegal Immigrants Fall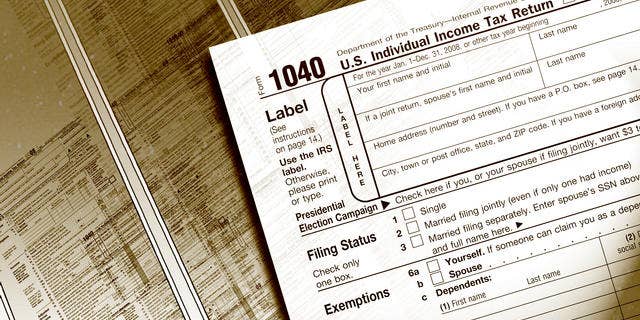 Tax returns filed under a special number primarily used by undocumented immigrants have declined 10 percent in the last two years, according to federal data.
The number of people requesting such numbers also saw a decline from last year, after rising for most of the last six years.
The data underscores a growing unwillingness tax preparers say they have seen among undocumented immigrants to sign up with the Internal Revenue Service for the number --known as the Individual Taxpayer Identification Number, or ITIN – as they have come to believe that the chance of ever obtaining legal status is remote, at best.
"There was hope, when President Obama got elected, and he promised immigration reform, that there would be a way for people to legalize," said Jose Mauricio Lopez, a senior tax advisor for H&R Block in New Jersey who works with an immigrant organization to persuade the undocumented to obtain ITINs. "But people got disillusioned when they saw nothing happening."
Several congressional legislative proposals for reforming the immigration system have included provisions that say proof of having paid taxes can help undocumented immigrants qualify for legalizing their status.
Echoing other tax preparers, Lopez said the number of undocumented immigrants he has helped sign up for an ITIN – either through his job or his work with the immigrant organization -- has dropped roughly 20 percent in just the last year.
"There are several reasons," Lopez said. "People are discouraged, they don't see hope for becoming legal, the economy is not improving. They talk of returning to their homelands, and don't feel the urgency as much to get the ITIN."
Tax returns filed using ITINs for tax year 2009 amounted to 3.5 million as of the end of September, the most recent month available. For tax year 2008, 3.8 million returns with ITINs were filed, down from tax year 2007, when there were 3.9 million.
This year, through mid-October, the IRS issued 1.6 million ITINs, down from 1.8 million last year. The number of ITINs had been rising each year since 2004, when the number was 838,070. In 2004, the number of ITINs dropped from the previous year, when the IRS assigned 1.2 million.
That is believed to be due to stricter regulations that the IRS established in 2004 to stop the practice of obtaining an ITIN in order to use it as identification for getting such things as driver's licenses.
The IRS has issued roughly 14 million ITINs since 1996, when it set up the system for foreign nationals who did not qualify for a Social Security number.
There are said to be an estimated 11 million illegal immigrants in the United States, 7 million of whom are believed to be in the workforce. Estimates on the higher end put the number of illegal immigrants at about 20 million.
IRS officials say they do not know how many of the people who have ITINs are illegal immigrants because they do not ask about immigration status. But most of the people who have them are believed to be here illegally.
In a 2006 congressional hearing, then-IRS Commissioner Mark Everson said: "Our job is to make sure that everyone who earns income within our borders pays the proper amount of taxes, whether that income is legally obtained and whether the individual is working here legally.
"If someone is working without authorization in this country, he/she is not absolved of tax liability. Instead of an SSN to file a tax return, that person frequently uses an Individual Taxpayer Identification Number."
Everson added that since ITINs have been used, the income tax liability for ITIN filers totaled about $50 billion.
Many illegal immigrants use the ITIN to open bank accounts and establish credit.
A Colombian undocumented immigrant whom Lopez helped put in contact with Fox News Latino said he obtained one in 2001 so that he could open a bank account.
"I am not looking at it as something that will help me show a tax paper trail so that I can become legal," the immigrant, who asked not to be named, said in a telephone interview. "I have no hope that there will be changes in the immigration system that will help us correct our status. The ITIN has helped me in other, practical day-to-day kinds of ways."
Supporters of more lenient immigration policies argue that the millions of ITIN filers show that undocumented immigrants are not here to drain the country, and that they also pay sales tax. Advocates also say that many illegal immigrants pay billions of dollars annually to Social Security and Medicare, but never reap the benefits.
Others say that illegal immigrants take more than they give, economically, to the country. They say they use more in services than they pay back into the system.
"That's intellectual laughing gas," said Dan Stein, head of the Federation for American Immigration Reform, or FAIR, in Washington D.C., which pushes for stricter immigration enforcement. "Nobody gets an ITIN number because of a driving urge to pay taxes."
FAIR, like other groups and political leaders who favor strict immigration policies, says that it is unfathomable that an arm of the federal government accommodates people who are unlawfully here.
Stein wants to see the IRS share information about suspected illegal immigrants with immigration officials. The IRS explicitly says it will not provide ITIN information to immigration officials.
In August, immigrant youths in North Carolina held a protest, saying the federal government was hypocritical to deport illegal immigrants while also taxing them.
One protest organizer told the News & Record: "It's like 'O.K.. We need you to come work. But when we're done with you, we're deporting you.'"
In fact, other arms of the federal government treat illegal immigrants in ways that seem at odds with immigration policy, immigration advocates note.
Wage and hour laws, for instance, protect workers from exploitation, regardless of immigration status. Federal and state labor officials routinely speak to groups of illegal immigrants around the country, encouraging them to report unpaid wages or other exploitation, and promise them confidentiality. And the Selective Service requires all males, including, it notes on its website, illegal immigrants, to register for the U.S. military if they are at least 18 years old but not yet 26.
"The federal government is, and always has been, schizophrenic," Stein said.
Follow us on twitter.com/foxnewslatino
Like us at facebook.com/foxnewslatino