Tattoo visible at hearing to postpone Aaron Hernandez's murder trial fuels gang rumor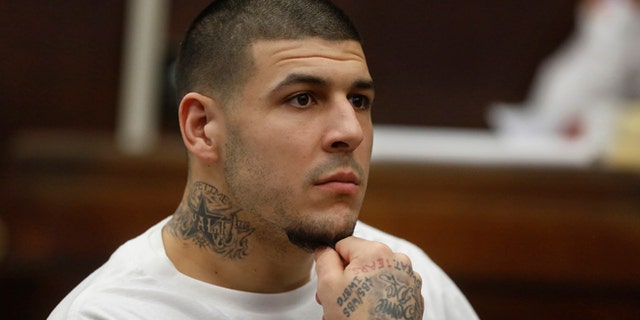 When Aaron Hernandez appeared before a judge, rumors that the one-time New England Patriots tight end had joined a gang while in prison were re-ignited by a new tattoo on the former NFL star's neck.
Hernandez is charged with killing two men in Boston in 2012. Jury selection for the trial was scheduled to begin Jan. 19, but Suffolk Superior Court Judge Jeffrey Locke on Wednesday granted a motion by defense attorneys and prosecutors for a postponement.
Both sides cited a pending appeal over evidence in the case.
The neck tattoo was first spotted during a May court appearance, but it had been partly covered. According to Boston.com, at Tuesday's hearing, it was fully exposed.
It includes the words "Lifetime Loyalty," above a five-pointed star. The "Y" at the end of "loyalty" is formed by a hand forming the hang-loose surfing gesture. Law-enforcement officials believe the the five-pointed star is a symbol affiliated with the Bloods gang.
No new trial date was set.
Hernandez grew up in Bristol, Connecticut. He has pleaded not guilty to gunning down Daniel de Abreu and Safiro Furtado after a chance encounter at a Boston nightclub. He already is serving a life sentence after being convicted this year of the 2013 killing of a man who was dating the sister of Hernandez's fiancee.
The tattoo was not present on his neck during his first murder trial.
The Associated Press contributed to this report.
Like us on Facebook
Follow us on Twitter & Instagram