Syrian Troops Attack Mourners After U.S. Envoy Visit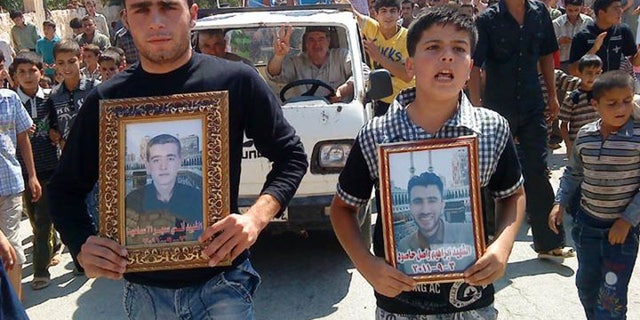 BEIRUT – Syrian troops fired tear gas at a gathering of mourners just hours after U.S. Ambassador Robert Ford and other Western diplomats expressed their condolences to the family of a rights advocate killed last week, activists said Wednesday.
The incident could increase already high tensions between Washington and Damascus, which has accused the United States of helping incite violence in Syria. Authorities have also criticized two earlier visits by Ford to the country's central and southern regions.
The Syrian regime is trying to crush a 6-month-old uprising with deadly force that has killed some 2,600 people, according to U.N. estimates.
Also Wednesday, Syrian troops conducted raids in the northwestern province of Idlib and the central region of Homs, the London-based Syrian Observatory for Human Rights said. It was not immediately clear if there were any casualties.
The raids came a day after more than 20 people were killed throughout Syria, according to the Observatory and Mustafa Osso, a Syria-based rights activist.
Osso, who runs the Local Coordination Committees activist network, said the attack on mourners occurred on Tuesday night, after Ford and several other ambassadors had left the gathering in the Damascus suburb of Daraya.
Osso said troops fired tear gas at the tent with mourners and relatives of Ghayath Mattar but no one was hurt.
Mattar was detained on Sept. 6 and his body was returned to his family over the weekend.
A U.S. embassy official confirmed Ford's visit, saying he was accompanied by other diplomats.
An amateur video posted on YouTube showed Ford and several other Westerners at a gathering as verses from the Koran, Islam's holy book, blared from loudspeakers.
Last month, President Barack Obama demanded Syrian President Bashar Assad resign because he had lost legitimacy as a ruler. Major U.S. allies such as Britain, France, Germany and the European Union have made similar moves.
Washington and the EU have also imposed sanctions on some Syrian officials because of Assad's crackdown.
A trip in July by the U.S. and French ambassadors to the central city of Hama to express support for protesters drew swift condemnation from the Syrian government, which said the unauthorized visits were proof that Washington was inciting violence in the Arab nation. Authorities then warned both ambassadors not to travel outside the capital without permission.
A month later, the Obama administration brushed off a complaint by Syrian authorities that Ford violated their travel rules by leaving Damascus without permission. The Syrian foreign ministry registered concern over Ford's trip in August from Damascus to the village of Jassem, where he met opposition activists.
The U.S. has maintained diplomatic relations with Syria despite protesting Assad's efforts to crush the 6-month-old uprising against him.
Republicans in Congress have assailed Obama's decision to send an ambassador to the Syrian capital after a five-year absence, calling it an unwarranted reward for the government's anti-American positions. Their criticism has grown stronger as more have been killed in the uprising.
But the administration has defended Ford's continued presence in Damascus, insisting that he is providing valuable information on the tumult across Syria while offering moral support to the protesters.