Syrian First Lady Asma Assad faces calls to be stripped of her UK citizenship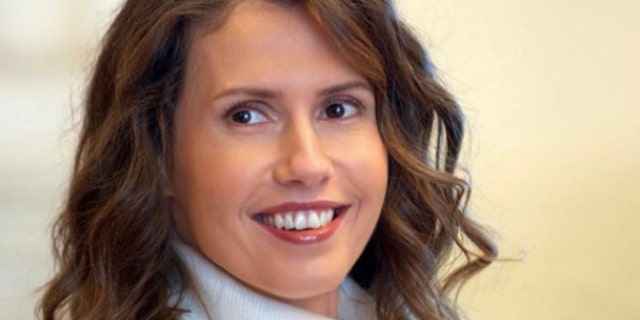 Some British lawmakers have given Asma Assad an ultimatum: Stop supporting your husband's "murderous" regime or risk losing your U.K. citizenship.
Syria's British-born first lady has come under fire for using social media to prop up Bashar Assad's regime, as the U.S. and its allies accuse the Syrian dictator of using chemical weapons on his own people in an April 4 attack.
Members of Britain's Liberal Democrats party sent a letter Sunday to the Home Office calling for Asma's citizenship to be revoked, according to The Telegraph, which obtained a copy of the letter.
"If Asma continues defending the Assad regime's murderous actions, the onus will be on the UK Government to deprive her of her citizenship or demonstrate that her actions are not seriously prejudicial to the vital interests of the United Kingdom," the letter read.
The party is also calling for a debate in the House of Commons this week, as members of Parliament return to work following the Easter recess.
Tom Brake, the party's foreign affairs spokesman, told the newspaper, "...the British Government could say to Asma al-Assad: 'Either stop using your position to defend barbaric acts or be stripped of your citizenship.'"
In an interview with the Times of London, Nadhim Zahawi, a conservative member of Parliament who sits on the Commons foreign affairs committee, echoed Brake's sentiments, saying: "The time has come where we go after Assad in every which way, including people like Mrs. Assad, who is very much part of the propaganda machine that is committing war crimes."
Amber Rudd, the U.K. Home Secretary, has the power to revoke Asma's citizenship under the British Nationality Act if she decides such a move would be "conducive to the public good," the Telegraph reported. Asma Assad, 41, is a British-Syrian dual citizen who grew up in London.
On April 4, warplanes dropped a chemical nerve agent over the rebel-held town of Khan Sheikhoun in Idlib province, killing at least 80 people, according to U.S. intelligence. Shocking footage of the aftermath shows civilians -- many of them children – convulsing and foaming at the mouth from what U.S. authorities said was exposure to sarin gas.
Two days later, the U.S. carried out its first direct military action against the regime, launching 59 Tomahawk cruise missiles at Shayrat airfield base from which U.S. officials believe the chemical attack had been launched.
On Thursday, Assad called the April 4 chemical attack in Syria a "fabrication" by the U.S. and its western allies. His comments to French news agency AFP came a week after his wife issued a statement of her own.
"The presidency of the Syrian Arab Republic affirms that what America has done is an irresponsible act that only reflects a short-sightedness, a narrow horizon, a political and military blindness to reality, and a naive pursuit of a frenzied false propaganda campaign that fueled the regime's arrogance," she wrote in Arabic on an Instagram account bearing her name.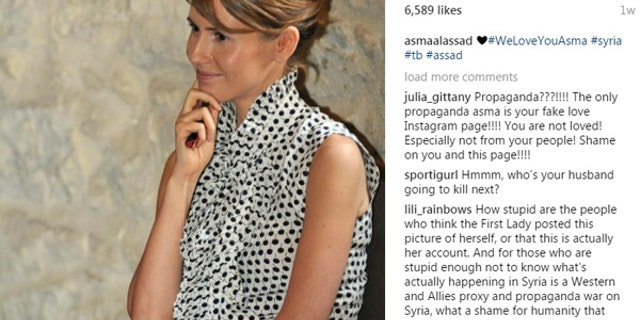 Asma's social media posts have depicted her as a humanitarian, adorned with photos of the first lady reading to children and embracing the family of a Syrian who was killed in the nation's civil war – all with the affectionate hashtag #WeLoveYouAsma.
The photos are a stark contrast to the ones on news channels showing Syrian children lying dead in the streets after choking on poison gas that the U.S. and its allies said was unleashed by her dictator husband.