Syria warplanes bombard outskirts of Damascus: NGO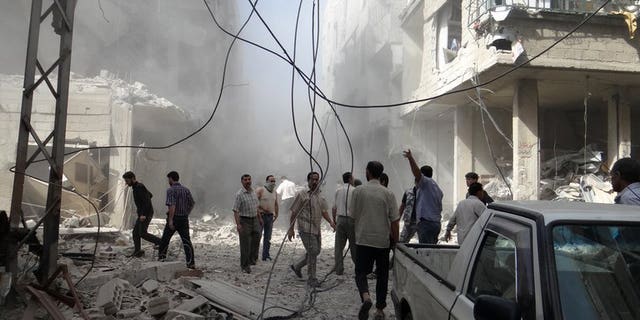 BEIRUT (AFP) – Syrian warplanes launched a series of strikes on the outskirts of Damascus Saturday as President Bashar al-Assad's regime pressed a bid to drive back rebels, a monitoring group said.
Fresh fighting meanwhile erupted in several flashpoint areas around the capital, while the army renewed its shelling on besieged rebel areas of the central city of Homs, said the Syrian Observatory for Human Rights.
"Warplanes carried out several air strikes on the edges of Assali (in the south) and Qaboon (east)," said the Britain-based group, referring to areas on the outskirts of Damascus.
The Observatory also reported fresh clashes in Assali as well as in the southwestern neighbourhood of Qadam, adding that the army shelled rebel-held Yarmuk in the south and Jubar in the east.
Air strikes also targeted other rebel areas east of Damascus, among them insurgent bastion Zamalka, said the group.
Violence has encroached deeper into Damascus in the past few months, with several outlying districts battered by shelling and fighting. Central Damascus is still squarely in army hands.
Elsewhere, an assault by the army and pro-regime militias on rebel areas of Homs went into a seventh day.
The army "intensely shelled" Khaldiyeh Saturday, said the Syrian Revolution General Commission, a grassroots network of activists.
Amateur video distributed by the group showed clouds of smoke rising above the neighbourhood.
More than 100,000 people have been killed in Syria's 27-month war, says the Observatory.