Survivor of California limo fire testifies terror of escaping the flames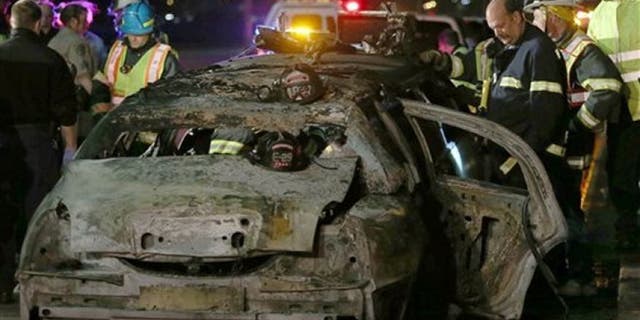 NEWYou can now listen to Fox News articles!
REDWOOD CITY, Calif. (AP) – A woman who was the last to escape a burning limousine on a California bridge three years ago testified in a wrongful death trial how she couldn't see or breathe through thick, black smoke and thought she was going to die inside the limo where five of her friends perished.
The San Jose Mercury News reports Thursday that Amalia Loyola was the final passenger to testify in the wrongful death suit against the Ford Motor Company. The suit was brought by a widower of one of the passengers who died.
Loyola testified that after the limo bounced on the freeway, carrying her and eight friends over the bridge, thick, black, acrid smoke started rising from the floor. She couldn't breathe or see.
"I couldn't see my friends," she told the jury, speaking in short, halting sentences, sometimes pausing to take a breath. Breathing was so difficult in the fire she couldn't speak. "I couldn't open my mouth."
Two of the women managed to shimmy through the small partition to the driver's seat. Loyola waited her turn behind friend Jasmin De Guia.
"She got stuck on her hip," said Loyola, 51, who tried to push her friend through. A small amount of air made it through the partition. She didn't know where anyone else was.
Loyola recalled thinking one thing: If De Guia couldn't get out, "I am going to die."
She pushed her friend harder, and De Guia squeezed through the opening.
As the flames raced up her, burning her ankles so badly she later required a skin graft, Loyola went headfirst through the same passage, she testified.
She was the last one out.
Investigators blamed the blaze on a "catastrophic failure" of the car's suspension system that caused its drive shaft to rub on its undercarriage, causing sparks and friction that started the fire in the rear of the passenger compartment, the newspaper reported.
Loyola and the other survivors and the families of the other four women who died reached out-of-court settlements with the defendants. They include Accubuilt, the company that converted the 1999 Lincoln Town Car into a limousine by cutting it in half and adding its long passenger compartment; the Ford Motor Co. and Limo Stop, a San Jose company that owned the car. Accubuilt issued a recall of older limousines last year, citing the potential for similar fires.
Like us on Facebook
Follow us on Twitter & Instagram