Sri Lanka's Mathews vows fight against India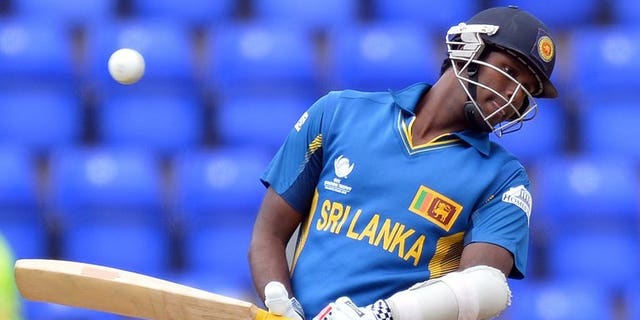 NEWYou can now listen to Fox News articles!
CARDIFF, United Kingdom (AFP) – Sri Lanka captain Angelo Mathews on Wednesday vowed his "fighting team" were prepared to put recent history behind them when they face India in the semi-finals of the Champions Trophy.
Thursday's match in Cardiff is a repeat of the 2011 World Cup final, which India won by six wickets in Mumbai despite a superb century from Sri Lanka's Mahela Jayawardene.
Since then the Asian rivals have met in 10 one-day internationals with India winning seven, Sri Lanka two and one tie.
At the Champions Trophy, India were the only side who reached the semi-finals on the back of a perfect group record of three wins.
By contrast, Sri Lanka have had to battle their way through following a loss to New Zealand in a low-scoring opener in Cardiff.
But they recovered to beat hosts England and then defeated title-holders Australia on Monday to seal their last four place.
"Especially after the New Zealand game, we had to do it the hard way," Mathews told reporters in Cardiff.
"All three games went down to the wire, and we had to fight really hard to win. We know that we are a fighting team, and we fight to the last moment."
Asked if Thursday's match represented "payback time" for Sri Lanka after their World Cup final heartbreak, Mathews replied: "There's no room for revenge in sport.
"But yes, if we can beat the Indians, I think it'll be a great achievement. On our day we can beat any team."
Sri Lanka will be looking to bowling spearhead Lasith Malinga to disrupt a powerful India top order that includes in-form opener Shikhar Dhawan, the tournament's leading scorer so far with 264 runs, including two hundreds.
Slingshot seamer Malinga, renowned for his yorkers, is regarded as one of the world's most awkward bowlers to face, yet the paceman's average against India (40.88) is his worst against that of any opposing country.
"We see a lot of Malinga, we understand him better, we play him in the subcontinental conditions where he gets a lot of reversing and where he is one of the most difficult bowlers to face," said India captain Mahendra Singh Dhoni.
India's team in Cardiff is likely to feature only three survivors from the World Cup final -- Dhoni and batsmen Suresh Raina and Virat Kohli
They also have a different coach in ex-England boss Duncan Fletcher, who took over from Gary Kirsten shortly after the final with India then top of the world Test rankings.
Early results, including a 4-0 Test series loss in England, went against him.
But Fletcher recently oversaw India's 4-0 home Test trouncing of Australia and the team's much-improved fielding in the Champions Trophy is testament to the former Zimbabwe all-rounder's influence.
"Duncan is someone who knows the basics of cricket really well," said Dhoni.
"When he came in we were going through a phase where some of the senior cricketers that we had, they left us. Also, we were at the top of what we could have done in cricket.
"So he is always someone who would have felt the pressure; to maintain that kind of performance is very difficult.
"But I think he's loving the fact now the team has started to do well and also there are lots of youngsters in the side whom he needs to guide.
"I am just very happy we are doing well for him."
Rain saw hosts Sri Lanka and India share the 2002 Champions Trophy title but there will be no division of the spoils if Thursday's match is a wash-out.
In that case, India will go through to Sunday's final at Edgbaston on account of having won Group B.
Thursday's winners will face England in Birmingham after the tournament hosts beat South Africa by seven wickets in Wednesday's first semi-final at The Oval.