Squash great Khan fears for Pakistan sport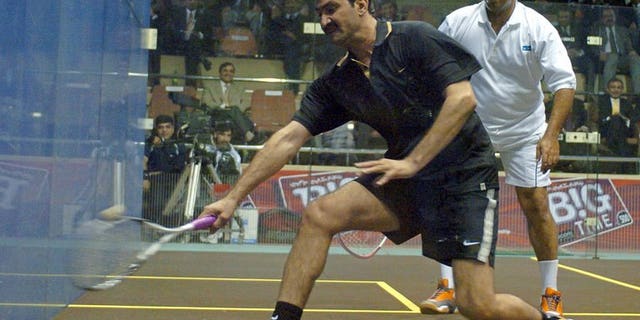 KARACHI (AFP) – Legendary Pakistani squash player Jahangir Khan says the country must do more to improve its image and stop the rest of the world thinking of Pakistanis as "terrorists".
Pakistan, which celebrates its Independence Day on Wednesday, held the world titles in cricket, squash and hockey in 1994.
But lack of facilities, militancy and infighting among sports federations have caused a serious slump, with the country on the verge of a ban from the Olympics for flouting administrative rules.
The country has been a virtual no-go zone for top foreign sports teams since Islamist gunmen attacked the Sri Lankan cricket team in Lahore in 2009.
Khan, 50, said the government must do more to revitalise Pakistan's once proud sporting identity.
"Prime Minister Nawaz Sharif must look into the situation in sports, which is fast getting out of control," Khan told AFP.
"Sports are the only identity Pakistanis have at the world level but now we are tagged as terrorists, because our sports and sportsmen have been pushed back."
Pakistan suffers almost daily bomb and gun attacks, most carried out by homegrown Islamist militants, and Khan said the struggle had had a disastrous effect on sport.
"Our sports are destroyed by terrorism with no country wanting to visit us because of security fears," said Khan.
"On top of that, the mismanagement in our sports, with two factions in the Olympic association, have brought a bad name for the country."
Khan won a record 10 British Open titles and six world titles, dominating squash in the 1980s and 90s along with his compatriot Jansher Khan, who won eight world and six British crowns.
Since their departure, however, Pakistan has failed to produce any top-level squash players.
"Our squash has gone three levels down, hockey is nowhere and our cricket image is stained by players caught in match-fixing," said Khan.
Four-time hockey world champions, Pakistan slumped to last in the World Cup held in India three years ago and a poor seventh in last year's London Olympics.
"Pakistan is rich in sporting talent but the only thing needed is to have sincere and honest administrators who should be held accountable by the government," said Khan.
"Pakistan should be recognised as a sporting nation and not as a terrorist country."