Somali Pirate: Danish Family Will Be Killed if More Rescue Attempts Are Tried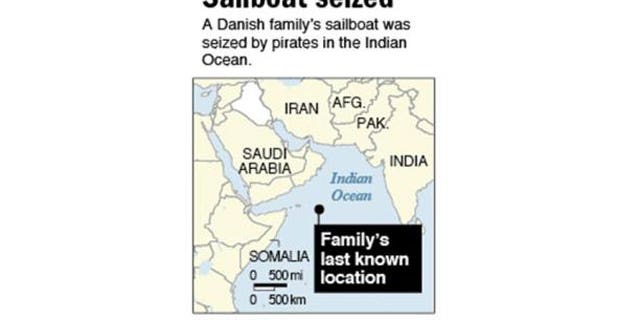 MOGADISHU, Somalia (AP) -- A Somali pirate warned Friday that a Danish family now being held in captivity on land will be killed if any more rescue attempts are made for the seven hostages.
The warning follows a botched rescue attempt Thursday by government forces from the semiautonomous Somali region of Puntland.
"We know they are still in the process of trying to attack us again, but I am telling them that will cost the lives of the Danish people," a self-proclaimed pirate, Bile Hussein, told The Associated Press.
The Thursday raid by Puntland security turned deadly after the would-be rescuers walked into an ambush. Armed forces tried to surround the village of Hul Anod to free the family but were beaten back before. Hussein said Friday that five security forces and two pirates died in the exchange.
Puntland government officials didn't answer calls seeking comment.
The botched rescue attempt comes about two weeks after pirates killed four captive Americans held on their yacht off East Africa. Four U.S. warships were following the hijacked yacht at the time.
Pirates typically demand and receive millions of dollars to release hijacked boats and captured crews. Some of that money is then reinvested in heavy weapons.
Frans Barnard, an independent security consultant who was himself kidnapped and held briefly in Somalia last year, said the pirates holding the Danish family are not as experienced as some older pirate gangs, a fact that could increase the danger the family finds itself in.
Bernard said the risks associated with the Thursday rescue attempt by the Puntland forces were "phenomenal."
The Johansens, their three children and two crew members were kidnapped two weeks ago after pirates seized their 43-foot (13-meter) sailboat.
Maritime experts said the Johansens had placed themselves in grave danger off Somalia's lawless coast despite warnings from naval forces struggling to police the area against pirates.
Somalia has not had a functioning government in two decades, and piracy has flourished off its coast. Maritime authorities say as ransoms have climbed into the millions of dollars, pirates are holding hostages for longer and becoming more vicious.
Also Friday, India's Foreign Minister S.M. Krishna said the government has stepped up efforts to free 53 Indian sailors held captive by Somali pirates operating in the Gulf of Aden. He said the government is pressing ship owners to speed up negotiations with the pirates so that the abducted sailors are released soon.
At least 53 Indian seafarers abducted from five ships were still being held by Somali pirates, Krishna told India's Parliament.
Somali pirates freed 11 Indian sailors two days ago, part of 25 crew members of the Rak Afrikana, who had been held for nearly a year.