Slovakia's police chief to resign in slain reporter case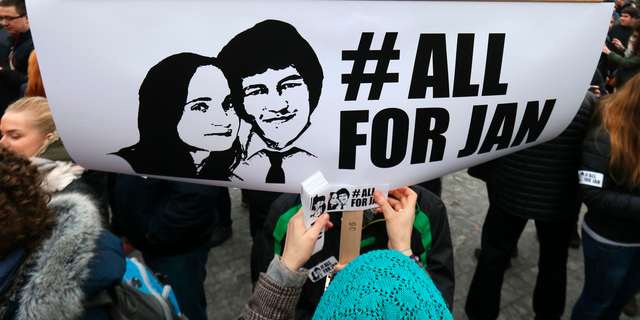 NEWYou can now listen to Fox News articles!
BRATISLAVA, Slovakia – Slovakia's national police chief will resign following street protests against him as the nation struggles with a political crisis triggered by the slayings of an investigative journalist and his fiancee.
Prime Minister Peter Pellegrini says Tibor Gaspar will step down May 31 to calm tensions in the small European Union nation.
The Feb. 21 shooting deaths of reporter Jan Kuciak and Martina Kusnirova sparked large street protests that forced former Prime Minister Robert Fico's three-party coalition government to step down.
Kuciak was investigating possible widespread government corruption and ties with Italian mobsters.
A new government was appointed, but it was made up of same three parties and the street protests continued.
The protesters, backed by President Andrej Kiska, have demanded an independent investigation into the slayings and Gaspar's dismissal.