Six killed in fire at nightclub in Serbia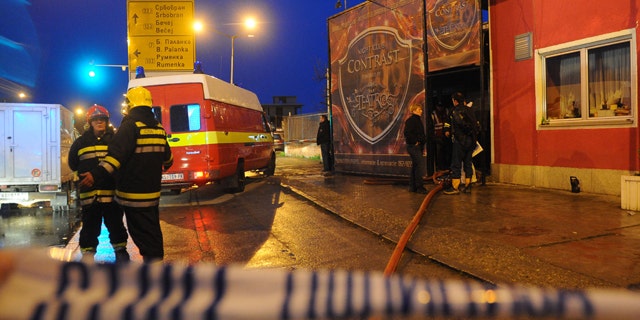 BELGRADE, Serbia – The owner of a nightclub where six people died on Sunday trying to escape a fierce blaze has been detained by police, a Serbian official says.
Police spokeswoman Mileva Tomic said Alojz G., who owns Contrast club in Novi Sad in northern Serbia, was detained along with two more people. She did not give the owner's full name.
Emergency workers could be seen removing a body from the blackened shell of the building Sunday afternoon. Nearby, a man crouched in the middle of the road, seemingly in tears.
Investigative judge Ana Stamenic said the likely cause of the fire, which erupted around 2 a.m., was flawed electrical installations, but an investigation is ongoing.
Police officials have said the victims died from smoke inhalation while trying to flee the blaze that broke out around the stage area during a live performance and quickly spread.
"One of them was just half a meter from an exit," said senior police official Predrag Maric. "There must have been huge panic, they all rushed to get out."
Stamenic said all the victims have been identified, and they are three men and three women, aged 21-29 years old. Officials had initially said the victims were teenagers.
Maric said some 350 people were inside the club during the fire and all rushed to the exits in an attempt to flee the blaze.
Two more people were injured, but their lives are not in danger, doctors said.
Authorities in Novi Sad declared three days of mourning starting on Monday. Serbia's President Boris Tadic expressed condolences to the families in a statement.