Sinaloa cartel members sentenced for trying to bring in 1 ton of cocaine into U.S.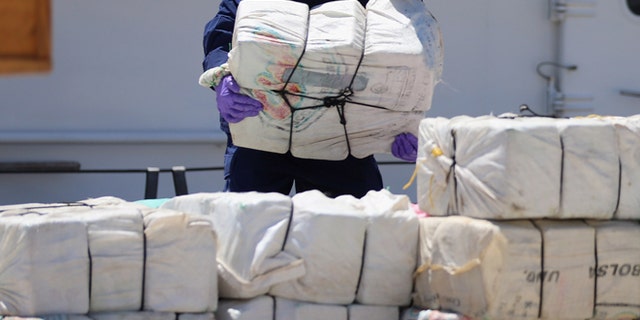 CONCORD, N.H. (AP) – The last of four members of a violent international drug cartel was sentenced Monday to 17 years in prison for his role in trying to expand the empire's reach into the United States.
Rafael Humberto Celaya Valenzuela, part of Mexico's Sinaloa cartel run by drug lord Joaquín "El Chapo" Guzmán, was sentenced in federal court in New Hampshire.
At trial, secret video and audio showed Valenzuela conspiring with fellow cartel members and undercover FBI agents, who passed themselves off as members of a European criminal syndicate, to expand the gang's cocaine empire into the United States and Europe. Valenzuela and others in the cartel promised to deliver a thousand kilograms, or 2,200 pounds, of cocaine plus methamphetamine and heroin. One of the meetings between cartel members and agents took place in April 2011 in New Hampshire.
In 2011, three "test" deliveries of fruit were made to assure the defendants that they were not dealing with law enforcement. The successful dry runs ultimately led to a cocaine delivery.
The 40-year-old Valenzuela, of Hermosillo, Mexico, had faced more than 30 years in prison.
He was scheduled to be sentenced in May but his lawyers, Jeffrey Feiler and Julie Connolly, won a postponement by arguing that the conspiracy was about getting cocaine to Europe, not the U.S., meaning the U.S. couldn't prosecute him. They said the only players in the conspiracy who mentioned using U.S. ports or shipping to U.S. destinations were the undercover FBI agents who were trying to catch Guzmán.
Guzmán escaped from prison in 2001 and ran the cartel from hideouts and safe houses across Mexico. He was recaptured in February 2014 then escaped again in July.
Feiler and Connolly repeatedly stressed that the drug cartel members considered but rejected transporting the drugs to or through the U.S.
U.S. District Court Chief Judge Joseph Laplante ultimately ruled the U.S. did have jurisdiction and sentenced Valenzuela for his convictions on conspiracy to distribute cocaine and possession with the intent to distribute cocaine.
Three others — Samuel Zazueta Valenzuela, Jesus Gonzalo Palazuelo Soto, and a cousin of "El Chapo," Jesus Manuel Gutiérrez Guzmán — have already been sentenced.
"This case illustrates that drug cartels based in foreign countries will go anywhere to distribute their deadly products," Acting United States Attorney Donald Feith said in a statement after the sentencing. "Mr. Celaya Valenzuela served as a representative of one of the world's wealthiest and deadliest drug organizations."