Shots Fired at Ousted Kyrgyz President's Rally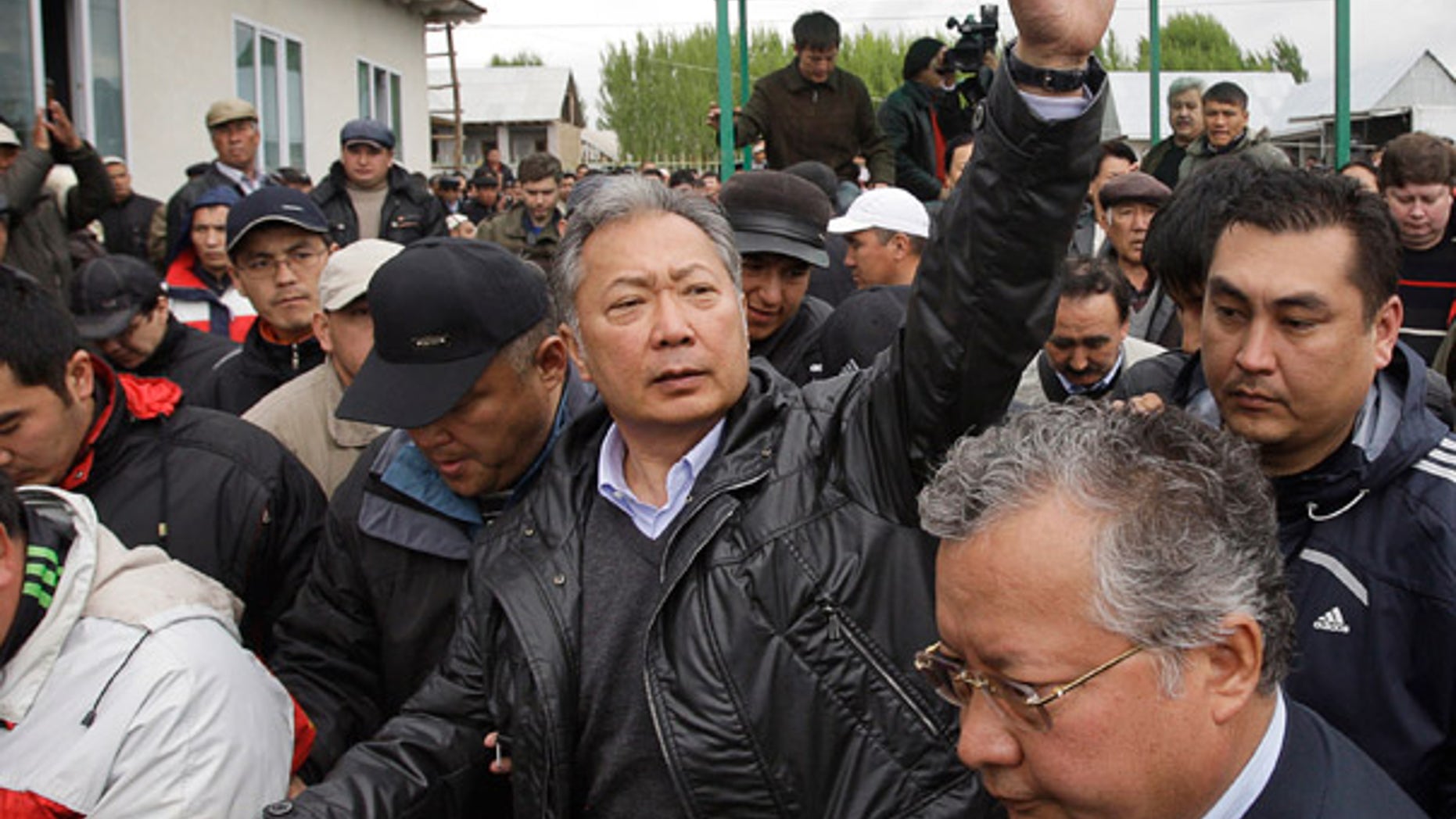 OSH, Kyrgyzstan -- Gunfire broke out Thursday at a rally where the deposed president of Kyrgyzstan was speaking to supporters. Kurmanbek Bakiyev was hustled into a car and driven from the scene, and there were no apparent injuries in the crowd.
One of Bakiyev's brothers, Kanybek, told The Associated Press that the president was uninjured and was returning to his home in the village of Teyit, about a two-hour drive from the rally site.
The gunfire crackled out seconds after Bakiyev began speaking to the crowd of about 5,000 in Osh, the largest city in the southern region that is Bakiyev's support base.
Although there were no reports of injuries, the gunfire underlined the tensions that persist in the second week of the crisis in the ex-Soviet Central Asian country where both the United States and Russia have military bases.
Witnesses said the shots were fired into the air by Bakiyev's bodyguards, possibly because of concern about a group of Bakiyev opponents who were approaching from a separate rally about 300 meters (yards) away.
After fleeing the capital last week, Bakiyev in recent days has made a series of public appearances, clearly testing how much support he has to try to resist the interim authorities who have taken control in the capital.
Bakiyev was driven out of the capital on April 7 after a protest boiled over into gunfire; protesters then stormed government buildings. At least 83 people died in the violence.
By having to flee the rally in what has been the heartland of his backers, Bakiyev appears to have suffered a significant setback in his drive to claim that he is still the country's legitimate president.
"He killed all those young people. All the people are against him. How can he even turn up here?" said Alikh Mansurov, an unemployed Osh resident.
It remains unclear how much support he has among the country's military and police. In order to reach the Osh rally from his hometown, Bakiyev and his convoy had to pass through at least four checkpoints, one of which was heavily armed with three armored personnel carriers and about 20 machine guns.
No arrest warrant has been issued for Bakiyev, but one is in effect for his brother Zhanybek, former head of the state guard service, who was among those in the convoy.
Bakiyev has said he would be willing to resign if security guarantees were given to him and close relatives. The interim authorities have offered him such guarantees but have refused them for family members.
They also say Bakiyev would have to leave the country or face prosecution; his opponents blame him both for last week's violence and for alleged widespread corruption.
Bakiyev has shown no signs of willingness to leave Kyrgyzstan, and no country has stepped forward publicly with offers of shelter.
The U.S. military base near the Kyrgyz capital, Bishkek, is a key piece in the NATO campaign against the Taliban in Afghanistan, providing both refueling flights and a transit point for troops going into or out of Afghanistan.