Sherpas begin Everest base camp walkout after deadly avalanche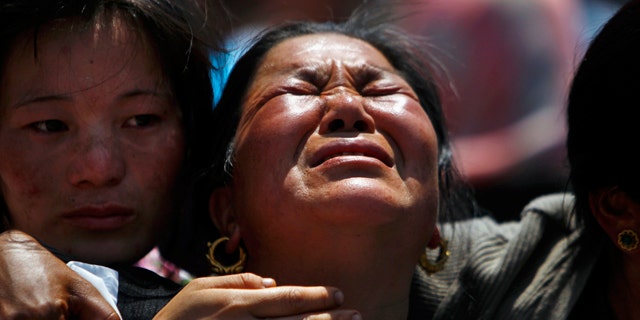 NEWYou can now listen to Fox News articles!
KATMANDU, Nepal – Sherpa guides were leaving Mount Everest's base camp on Wednesday as part of a walkout following the mountain's deadliest disaster, as some expedition companies announced that they were canceling their climbs this season.
American climber Ed Marzec said he saw several Sherpas leaving the base camp and many others packing up their tents. Some were loading their equipment onto a helicopter that had landed at the camp.
"There are a lot of Sherpas leaving this morning, and in the next two days there will be a huge number that will follow," Marzec, 67, from San Diego, said by phone from the base camp. He said he had already decided to abandon his climb.
Tusli Gurung, a guide who was at the base camp on Wednesday, estimated that nearly half the Sherpas had already left.
The walkout is certain to disrupt a climbing season that was already marked by grief following Friday's disaster. Sherpa guides were hauling climbing gear between camps when a chunk of ice tore loose and triggered an avalanche. Thirteen bodies were recovered and three Sherpas still missing are presumed dead.
"It is just impossible for many of us to continue climbing while there are three of our friends buried in the snow," said Dorje Sherpa, an experienced Everest guide from the tiny Himalayan community that has become famous for its high-altitude skills and endurance.
"I can't imagine stepping over them," he said of the three Sherpa guides who remain buried in ice and snow.
Seattle-based Alpine Ascents International announced it was calling off its expedition. "We have all agreed the best thing is to not continue this season's climb, so that all can mourn the loss of family, friends and comrades in this unprecedented tragedy," the company said on its website.
New Zealand-based Adventure Consultants also said it was canceling its expedition this season.
Marzec said some smaller companies were hoping to go ahead with their climbs.
The avalanche was triggered when a massive piece of glacier sheared away from the mountain along a section of constantly shifting ice and crevasses known as the Khumbu Icefall -- a treacherous area where overhanging immensities of ice as large as 10-story buildings hang over the main route up the mountain.
Special teams of Sherpas, known as Icefall Doctors, fix ropes through what they hope to be the safest paths, and use aluminum ladders to bridge crevasses. But the Khumbu shifts so much that they need to go out every morning -- as they were doing when disaster struck Friday -- to repair sections that have broken overnight and move the climbing route if needed.
Nepal's government appeared to agree Tuesday to some of the Sherpas' demands in the threatened walkout, such as setting up a relief fund for Sherpas who are killed or injured in climbing accidents, but the funding falls far short of the Sherpas' demands.
After the avalanche, the government quickly said it would pay the families of each Sherpa who died 40,000 rupees, or about $415. The Sherpas said they deserved far more -- including more insurance money, more financial aid for the victims' families and new regulations that would ensure climbers' rights.
On Tuesday, the government's offer was modified to include a relief fund to help Sherpas injured in mountaineering accidents and the families of those killed, and to pay for rescue during accidents on the mountain. The government said it would stock the fund annually with 5 percent of its earnings from Everest climbing fees -- well below the 30 percent the Sherpas are demanding. Nepal earns some $3.5 million annually in Everest climbing fees.
The insurance payout for those killed on the mountain will also be doubled to $15,620 (2 million rupees), the Ministry of Tourism said -- far short of the Sherpas' demand for $20,800.
Most attempts to reach the summit are made in mid-May, when weather is most favorable. If the Sherpas boycott the season, many climbers will have to forfeit most or all of the money they have spent to go up Everest -- at a cost of $75,000 or more.
The Nepal National Mountain Guide Association will try to negotiate with the Sherpas and the government because a total boycott would harm Nepal's mountaineering in the long term, said the group's general secretary, Sherpa Pasang.
While most climbers have to make multiple passes through the Icefall, moving up and down the mountain as they acclimatize and prepare for their summit attempt, Sherpas make the dangerous journey two dozen times or more, carrying supplies and helping clients negotiate the hazardous maze of ice.
Nearly 30 climbers have died on the Icefall since 1963, most killed in avalanches or when they were crushed by huge chunks of ice.
More than 4,000 climbers have reached the top of the world's highest mountain since 1953, when it was first conquered by New Zealander Edmund Hillary and Sherpa Tenzing Norgay. Hundreds of people have died trying.