Sexual Assault Case Against Army General Ends With 20K Fine, No Jail Time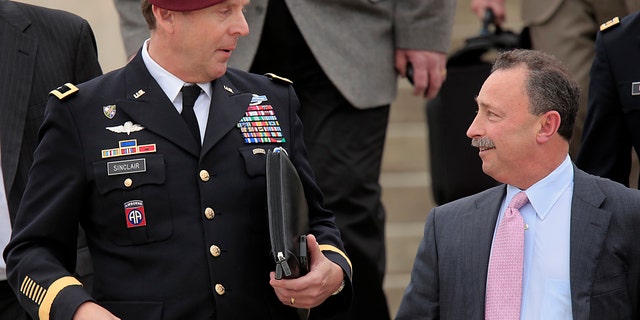 FORT BRAGG, N.C. (AP) – An Army general who carried on a three-year affair with a captain and had two other inappropriate relationships with subordinates was reprimanded and docked $20,000 in pay Thursday, avoiding jail time in one of the military's most closely watched courts-martial.
Brig. Gen. Jeffrey A. Sinclair, the former deputy commander of the storied 82nd Airborne Division, was believed to be the highest-ranking U.S. military officer ever court-martialed on sexual assault charges. But earlier this week those charges were dropped when he pleaded guilty to inappropriate relationships by asking the women for nude pictures and exchanging sexually explicit email with them.
Sinclair, 51, smiled and hugged his two lawyers in the courtroom. Outside the building, he made a brief statement.
"The system worked. I've always been proud of my Army," said Sinclair, who plans to retire. "All I want to do now is go north and hug my kids and my wife."
The case unfolded with the Pentagon under heavy pressure to confront what it has called an epidemic of rape and other sexual misconduct in the ranks.
As part of the plea deal, Sinclair's sentence could not exceed terms in a sealed agreement between defense lawyers and military attorneys. The agreement, unsealed Thursday, called for Sinclair to serve no more than 18 months in jail, but Col. James Pohl's punishment was much lighter.
The judge did not explain specifically how he came to the sentence and prosecutors did not immediately comment. Capt. Cassie L. Fowler, the military lawyer assigned to represent the accuser's interests, had a grim expression after the sentence was imposed and declined to comment.
Sinclair's fine breaks down to $5,000 a month for four months. He earns about $12,000 a month, according to testimony earlier in the week.
Retired Lt. Col. Gary D. Solis, who teaches law at West Point and Georgetown University, called Pohl's ruling lenient.
"I can't believe it," said Solis, who served 26 years of active duty in the Marine Corps and tried hundreds of cases as a military judge. "I know Judge Pohl to be one of the best judges in the Army judicial system, but ... this is an individual who should not be a general officer. He should have gone to jail and dismissed from the Army."
Sinclair will now go before Fort Bragg commander Maj. Gen. Clarence K.K. Chinn, who approved Sinclair's plea deal, and he'll get either a verbal or written reprimand. Then he'll appear before a board to determine if he will lose any rank, which could cost him hundreds of thousands of dollars in benefits.
The defense calculated that if Sinclair were allowed to retire and be demoted by two ranks, he would still lose $831,000 in retirement benefits by age 82.
In closing arguments, prosecutors argued Sinclair should be thrown out of the Army and lose his military benefits, while the defense said that would harm his innocent wife and children the most. The two sides also offered contrasting arguments about the seriousness of the misdeeds that felled the general.
"It's not just one mistake. Not just one lapse in judgment. It was repeated," said prosecutor Maj. Rebecca DiMuro. "They are not mistakes. We are not in the court of criminal mistakes. These are crimes."
Prosecutors did not ask the judge to send Sinclair to jail, even though the maximum penalty he faced on the charges to which he pleaded guilty was more than 20 years.
The judge could have also dismissed Sinclair from the Army, which would have likely wiped out his Veterans Administration health care and military retirement benefits.
The general also pleaded guilty to adultery and using his government-issued credit card to pay for trips to see his mistress and other conduct unbecoming an officer.
Sinclair had been accused of twice forcing the female captain to perform oral sex during their affair.
The Army's case against Sinclair started to crumble as questions arose about his primary accuser's credibility and whether military officials improperly rejected a previous plea deal because of political concerns.
A military lawyer representing Sinclair argued that his wife, Rebecca, had made a significant investment in the Army by holding leadership positions in organizations that helped soldiers' families. Maj. Sean Foster said Rebecca Sinclair and the couple's two sons would be hurt the most if the general lost benefits.
Sinclair's wife hasn't been present during the court proceedings and was not there Thursday.
When a letter from his wife was read aloud, Sinclair buried his head in his hands, appeared to cry and dabbed his eyes with tissues.
In the letter, Rebecca Sinclair said she hasn't fully forgiven her husband but that she didn't want the Army to punish him and his family further with a significant reduction to his pension and other benefits.
"Believe me when I tell you that the public humiliation and vilification he has endured are nothing compared to the private suffering and guilt that he lives with every day," she wrote.
The defense had called a host of character witnesses this week to laud Sinclair as a selfless leader.
Sen. Kirsten Gillibrand, D-N.Y., called the case a strong argument for her recent unsuccessful effort to strip commanders of the authority to prosecute cases and give that power to seasoned military lawyers.
"This case has illustrated a military justice system in dire need of independence from the chain of command," Gillibrand said in a statement. "It's not only the right thing to do for our men and women in uniform, but would also mitigate issues of undue command influence that we have seen in many trials over the last year."
Gillibrand is expected to renew her effort to change military law this spring when the Senate begins work on a defense policy bill.
Follow us on twitter.com/foxnewslatino
Like us at facebook.com/foxnewslatino