Severe storms hit southeast; travel delays expected on Christmas Eve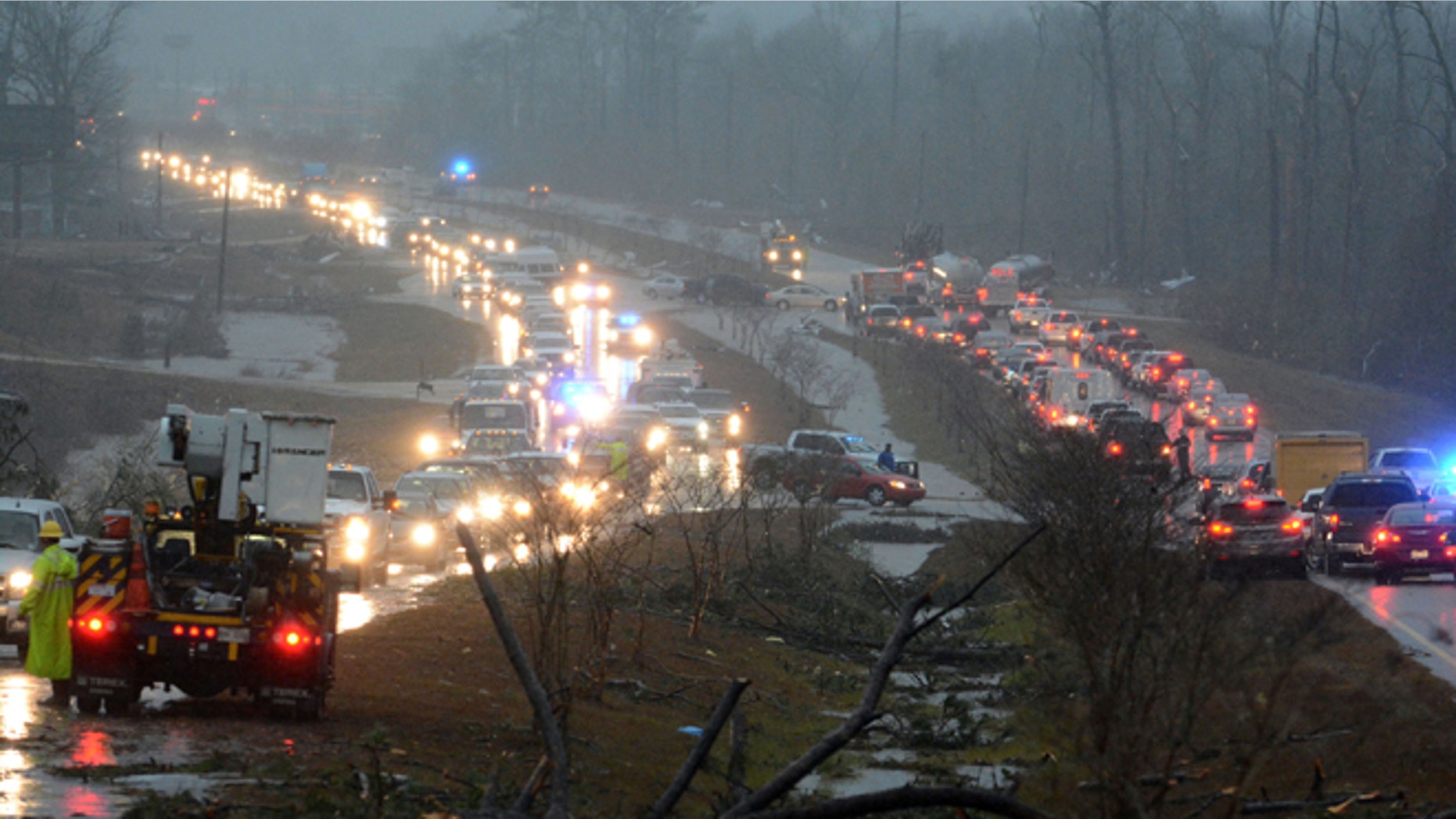 Associated Press – Travelers setting out for the holidays could face trouble, with anticipated Christmas Eve snow around the Great Lakes states and heavy rain expected along the East Coast.
National Weather Service meteorologists predicted rain that would turn into snow for some parts of Missouri to Michigan, with several inches expected Wednesday in portions of Illinois. Officials at both airport hubs in Chicago readied for the potential of holiday delays and cancellations, particularly with more people expected to fly this year.
"I would definitely make plans about possibly staying put or doing something else," said Chicago-area meteorologist Charles Mott. "Same for the roads. If you're not going to fly, the roads are not going to be getting any better."
About 4.2 million passengers are expected through O'Hare and Midway international airports during an 18-day holiday travel period ending Jan. 6, said Chicago Aviation Department spokeswoman Karen Pride. That would be a 3 percent increase at O'Hare and a 9 percent jump at Midway compared with last year. Pride urgedtravelers to allow plenty of time and monitor airlines closely.
On Tuesday, a storm system developed in the Gulf States, generating tornadoes that left four people dead, damaging some buildings and leaving thousands without power. It was expected to drop rain along the East Coast on Wednesday.
The severe weather caused some delays at Hartsfield-Jackson Atlanta International Airport — though airport spokesman Reese McCranie said in an email he was not aware of any cancellations. He said the airport did not expect a ground stop.
Elsewhere, a blast of cold and snowy conditions affected travel Tuesday.
In Nevada, the National Weather Service says a strong cold front will move through the western part of the state Wednesday night into Thursday on the heels of record-high temperatures.
The heaviest snow is forecast after 4 p.m. Wednesday, with up to 10 inches expected on mountain passes by Thursday morning.
Dozens of flights in and out of Philadelphia International Airport were canceled and others saw delays of about two hours due to bad weather and low clouds.
In eastern Colorado, Interstate 70 was shut down into Kansas for eight hours because of strong winds and blowing snow. Farther west, blowing snow also led to part of U.S. Highway 285 being closed at some points Tuesday.
Parts of western South Dakota saw snow accumulations of a foot or more through Tuesday morning. Higher elevations in the Black Hills got close to 2 feet.
In Mississippi, Gov. Phil Bryant declared an emergency for two southeastern counties where officials say four people died in the storms and 50 people were injured. Thousands remained without power Wednesday around Columbia, which is about 80 miles southeast of Jackson, officials said.
Marion County Emergency Management director Aaron Greer said one woman was killed Tuesday night in a mobile home and a second woman died in a business south of Columbia that was hit by the storm. Greer said Wednesday storm's path was about a half a mile wide and one to one and a half miles long.
Greer said the 50 people injured in county were being treated at Marion General Hospital in Columbia and Forest General Hospital in Hattiesburg. He did not know the extent of the injuries.
Summer Davis with the Jones County Emergency Management office said a man and woman were killed inside a mobile home in the Calhoun community west of Laurel.
Davis said the storm damage was confined to a small area with damage to other homes.
"The whole town of Columbia is without power," Millie Swann, a spokeswoman for Marion General Hospital said. "The hospital is running on generator (power), but was able to treat people in the ER unless they needed a higher level of care."
Eight patients were transferred to a hospital in nearby Hattiesburg.
Swann said the hospital's emergency room has since quieted.
"Any time there's an event like this things get hectic, but health care people are used to working under pressure," she said.
Photos tweeted by from several local media and the National Weather Service in Jackson showed damage to a Walgreens, car dealership, day care and the strip mall. Several local news outlets said none of the children at the day care were injured.
Meteorologist Latrice Maxie said significant damage has been reported to many homes and businesses in the city of about 6,500 people. A survey team would be sent Wednesday to determine whether a tornado was responsible, she said. Storm spotters said it was.
"It's chaos over here," Marion County coroner Norma Williamson said. "All the lines are down."
Mississippi Highway Patrol Lt. Johnny Poulos said authorities have shut down the three highways that lead into Columbia because of downed trees, power lines and other debris.
Most of Georgia was under a flood watch as thunderstorms moved across the state Wednesday morning. Several counties in south Georgia were also under a tornado watch as severe storms moved into the state from Alabama and the Florida panhandle.
In Alabama, authorities said thunderstorms left trees and power lines down across the state and flooded several roads. The National Weather Service early Wednesday issued a flash flood warning for parts of three counties in southeast Alabama, an area which includes the city of Dothan.
Earlier Tuesday, according to local media reports, a tornado touched down in Amite, Louisiana, downing several power lines and trees and tearing the roof off at least one home. Golf ball-sized hail fell in Enterprise, Mississippi, along with some pea-sized hail in the Bude area.
Meanwhile in Tallahassee, Florida, the weather service tweeted that travel was strongly discouraged and that several water rescues were in progress. At least 6 inches of rain had hit the area in a short time.
Like us on Facebook