Serb police find painting believed to be stolen Cezanne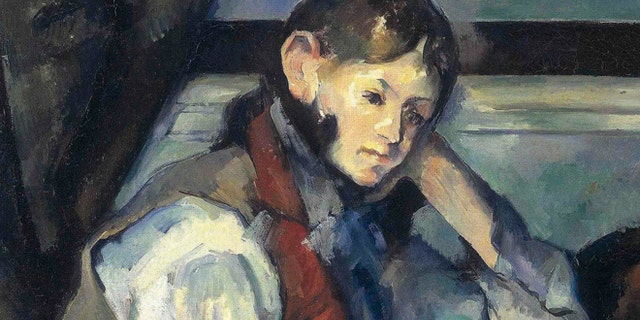 NEWYou can now listen to Fox News articles!
BELGRADE, Serbia – Serbian police have found a painting believed to be by French impressionist Paul Cezanne, which was stolen from a private Swiss museum in 2008 in one of the biggest art thefts in Europe at the time.
Police did not name the painting, but Serbian media said it is likely "The Boy in the Red Vest" stolen from E. G. Buhrle Collection in Zurich along with three other masterpieces by Claude Monet, Vincent van Gogh and Edgar Degas.
The Zurich prosecutors' office confirmed that three men were arrested in Belgrade in connection with the search for the stolen art, and that one picture was seized. It provided no further information.
Monet's "Poppy field at Vetheuil" and van Gogh's "Blooming Chestnut Branches" were discovered undamaged in a car parked at a mental hospital in Zurich soon after the robbery. The heist was conducted by three armed and masked men who witnesses said spoke German with a Slavic accent.
Serbian police arrested three people overnight in connection with the robbery. They said police raids and the arrests in the capital, Belgrade, and in the central city of Cacak were conducted in coordination with police from several European countries.
Belgrade's B-92 TV said the arrested men include the leader of the gang that carried out the heist, and that $1.9 million in cash and firearms were found in their possession.
One police official, who could not be identified under standing rules, said an art expert from Switzerland was being flown in to confirm the authenticity of the painting.
Art experts have suggested the robbers took advantage of a low-security museum without knowing about the paintings or how difficult it can be to sell such well-known stolen art works.
Cezanne's painting alone was worth $110 million, when it was stolen. The other painting still missing is Degas' "Ludovic Lepic and his Daughter," worth about $11 million.
The robbers took the first four paintings they reached when they raided the museum shortly before closing time on a Sunday. Although the most valuable painting was among the ones they took, they left behind the second most precious picture in the room, Cezanne's "Self Portrait with Palette," insured for $98 million, euro75 million.