Search for 'Baby Doe' extends to Mexico, more than 45M following case on Facebook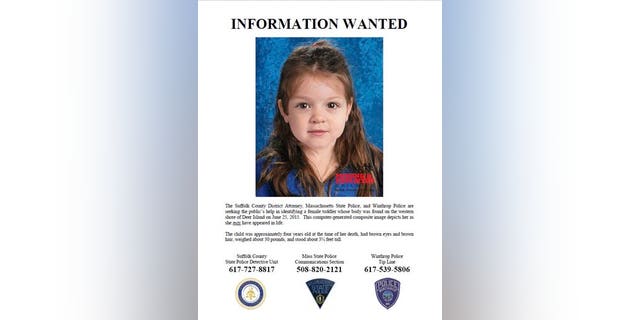 BOSTON – A staggering 45 million Facebook users have clicked on the picture of innocence that is being called Baby Doe: a 4-year-old girl with long brown hair, chubby cheeks and expressive brown eyes.
The mystery of the unidentified girl began on June 25, when a woman walking her dog on the western shore of Deer Island, Mass. called 911 and reported finding a trash bag containing the girl's body. The child was wearing white leggings with black polka dots. Inside the bag with her remains was a zebra-print blanket.
Police immediately appealed to the public for help in identifying the girl. Using photos of her remains, the National Center for Missing and Exploited Children created a composite image of what the girl may have looked like when she was alive.
Adding to the mystery is that investigators still haven't been able to figure out how she died. There were no obvious signs of trauma to her body, and an autopsy performed by the state medical examiner's office did not determine the manner or cause of her death.
FOX25 spoke exclusively with the investigators working to identify the body and determining what happened to her.
They say they are working around the clock vetting hundreds of tips from across the country and even some from other countries.
They are also chasing down a lead in Mexico and say they are working to spread the information about this child to the Spanish speaking community.
Late on Tuesday, police announced that they have received several messages asking if the girl could be Maggie Sophia Ortega-Brown, but then learned that Ortega-Brown is "alive and well in another country."
One tip received Tuesday came from someone who believes a missing Colorado girl could be the child from Deer Island. Police will investigate, but believe this particular child has been missing too long.
But authorities still haven't identified the girl.
"It has by far shattered our previous record for Facebook views," said Jake Wark, a spokesman for Suffolk County District Attorney Daniel Conley, whose office is overseeing the investigation.
Conley said Tuesday that authorities are awaiting the results of toxicology tests to determine if the girl was poisoned or ingested drugs.
She weighed 30 pounds and was about 3 1/2 feet tall. Her body was reasonably intact but had a modest amount of decomposition. Authorities won't say how long they believe she had been dead by the time her remains were discovered.
The Associated Press contributed to this report.