S. Korean activists vow to drop propaganda leaflets in N. Korea days after gunfire exchange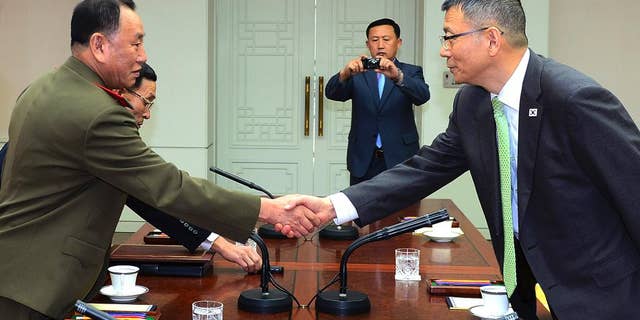 SEOUL, South Korea – South Korean activists vowed Thursday to continue to launch balloons carrying anti-Pyongyang leaflets across the border into North Korea, days after their campaign triggered gunfire between the rival Koreas.
North Korea considers leaflets an attack on its government and has long demanded South Korea ban activists from sending them. South Korea has refused to do so citing freedom of speech.
Last Friday, North Korea opened fire after propaganda balloons were floated from the South. South Korea returned fire, but there were no reports of casualties. North Korea has warned it would take unspecified stronger measures if leafleting continues.
South Korean activist Choi Woo-won said Thursday his group won't yield to the North's threats and plans to send about 50,000 leaflets on Oct. 25.
"Our government and people must not be fazed even though North Korea, the criminal organization, is blackmailing us," said Choi, who also works as a local university professor.
He said his leaflets will urge a military rebellion against North Korean leader Kim Jong Un. "The leaflets will tell North Korean soldiers to level their guns at Kim Jong Un, launch strikes at him and kill him," Choi said.
Another activist Lee Min-bok said he was also ready to fly millions of leaflets, which describe South Korea's economic prosperity and urges North Koreans to flee, as soon as weather conditions such as wind direction are favorable.
"No one can block my rights" to send leaflets, said Lee, whose leafleting Friday from a South Korean border village was believed to have directly caused North Korea to start fire.
The leafleting was high on the agenda when military generals from the two Koreas met a border village on Wednesday in the countries' first military talks since early 2011. During the meeting, North Korea requested again South Korea to prevent leafleting, but South Korea said it could not comply, according to Seoul's Defense Ministry.
Friday's shootout came three days after navy ships of the two Koreas exchanged gunfire near their disputed western sea border, the scene of several bloody naval skirmishes between the countries in recent years. There were also no reports of casualties from the incident.
Earlier, hopes for better relations were given impetus after a group of high-level North Korean officials made a rare visit to South Korea earlier this month and agreed to resume senior-level talks.
The two Koreas remain in a technical state of war because the Korean War ended with an armistice, not a peace treaty.
___
Associated Press writer Kim Tong-hyung contributed to this report.