Russia Suspends All Adoptions to U.S. Families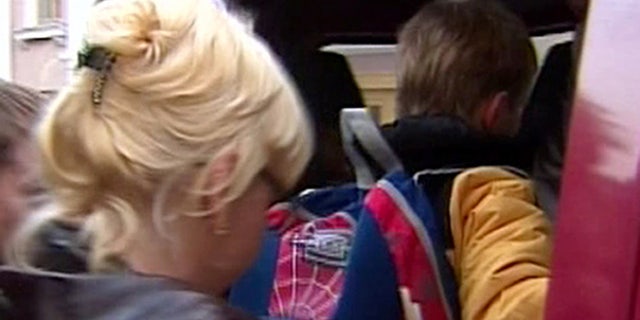 MOSCOW -- Russia has suspended all adoptions to U.S. families until the two countries can agree on procedures, the Foreign Ministry said Thursday -- a week after an American woman sent her 7-year-old adopted son back to Russia on a plane by himself.
The boy's return -- without supervision or explanation aside from a note he carried from his adoptive mother saying he had psychological problems -- incensed Russian authorities and the public, and prompted aggressive media coverage of foreign adoptions.
A U.S. delegation will visit Moscow "in the next few days" to discuss a possible bilateral adoption agreement, ministry spokesman Andrei Nesterenko said.
"Russia believes that only such an agreement which will contain effective tools for Russian and U.S. officials to monitor the living conditions of adopted Russian children will ensure that recent tragedies in the United States will not be repeated," Nesterenko said in a televised briefing.
The Tennessee woman who sent back her adopted Russian son last Thursday claimed she had been misled by his Russian orphanage about his condition.
Russians were outraged that no charges were filed against her in the United States.
"How can we prosecute a person who abused the rights of a Russian child abroad?" Russia's children's rights ombudsman, Pavel Astakhov, said in a televised interview Wednesday. "If there was an adoption treaty in place, we would have legal means to protect Russian children abroad.
Some 3,000 U.S. applications for adopting Russian children are now pending, according to the Joint Council on International Children's Services, which represents many U.S. agencies engaged in international adoption.
But the numbers have declined sharply in recent years -- with only 1,586 U.S. adoptions from Russia last year, compared with more than 5,800 in 2004.
Russia itself has been a big factor in the drop-off, adoption experts said, citing a perception that many children from Russian orphanages can present special challenges, due to such conditions as fetal alcohol syndrome.
Russian lawmakers for years have nevertheless suggested suspending such adoptions, after other cases of abuse and even killings of Russian children adopted in the United States.
Thousands of American adoption advocates had hoped this week to petition Russian and U.S. leaders to prevent the halt in adoptions announced Thursday. Poignant pleas from would-be adoptive parents were included in an online petition, signed by more than 11,000 people and addressed to President Barack Obama and Russian counterpart Dmitry Medvedev, the council said.
U.S. officials appeared willing to consider Russia's demand for a formal adoption pact, after years of resisting such entreaties while arguing that an international accord called the Hague Convention would be sufficient once Russia ratified it.
"We're willing to talk about some sort of bilateral understanding where we would ensure that these kinds of things could not happen," the U.S. ambassador to Russia, John Beyrle, told CBS television this week.