Running of Bulls in Mexico Leaves 2 Dead, 18 Injured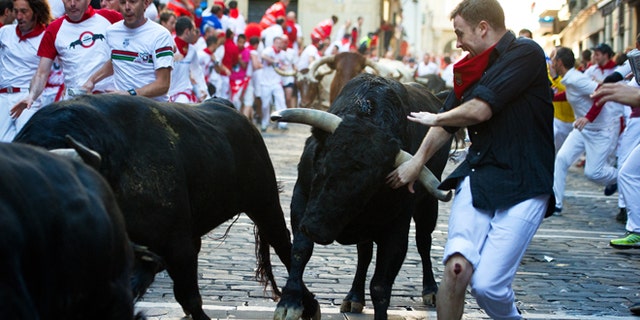 NEWYou can now listen to Fox News articles!
Two people are dead and 18 injured after this weekend's running of the bulls in the small central Mexico state of Tlaxcala, Health authorities say.
Tlaxcala state Health Department spokesman Yered Gallardo says the dead include one man who was crushed against a barrier by a charging bull.
Gallardo said Monday that the man died Saturday. Another elderly man died Sunday after a bull escaped its enclosure and went running through the streets. That victim had apparently not been participating in the running of the bulls.
Gallardo said 18 people were injured in the Saturday event, including one man who was gored in the testicles.
Organizers released 25 bulls, with runners following a route through Huamantla historic downtown area.
No one had died in the running of the bulls at the Huamantla festival in recent years, but the event is dangerous, with 13 people injured last year and 19 injured in 2010.
This report contains reporting from the Associated Press and EFE.
Follow us on twitter.com/foxnewslatino
Like us at facebook.com/foxnewslatino