Rodman: North Korean leader Kim Jong-un is father of baby girl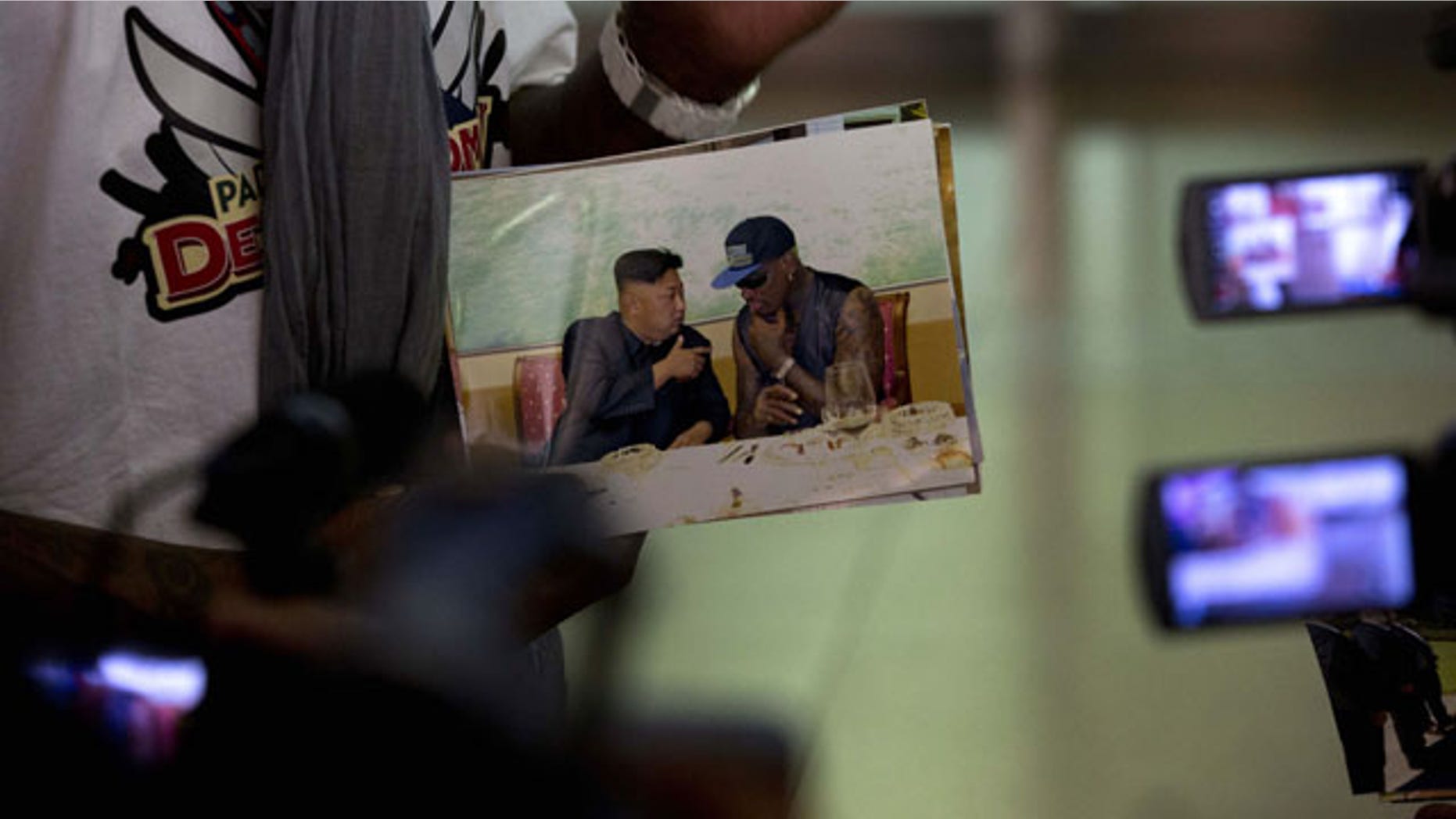 North Korean leader Kim Jong-un is the father of a little girl, according to basketball legend Dennis Rodman, who recently completed his second visit to the isolated Communist country this year.
Rodman told The Guardian newspaper that the baby's name was Ju-ae and described Kim as "a good dad [who] has a beautiful family."
Kim's wife, Ri Sol-Ju had appeared to be pregnant in pictures issued last year by North Korea's state news agency, although no confirmation was available then. She then disappeared from the public eye for a brief period before resuming her public schedule last October.
It is not clear whether the baby girl is the presumptive heir to Kim Jong-un, who is believed to be approximately 30 years old. North Korea has only been ruled by three men since the country's founding in 1948. However, female relatives of Kim Jong-un do hold important positions in North Korea's government.
Rodman's visit to the land called "The Hermit Kingdom" was another exercise in what the five-time NBA champion calls "basketball diplomacy." He previously visited North Korea in February and told The Guardian that he planned to organize a basketball exhibition between American and North Korean teams.
"The Marshal Kim and I had a relaxing time by the sea with his family," Rodman told the paper. "We shared many meals and drinks where we discussed our plans to play a historic friendship basketball game between North Korea and the US as well as ways to develop their basketball team."
Rodman apparently did not discuss the status of Korean-American missionary Kenneth Bae, who has been held in North Korea since late last year and has been sentenced to 15 years in hard labor for allegedly plotting to overthrow Kim Jong-un's government.
"That's not my job to ask about Kenneth Bae," Rodman said upon his return to China from North Korea Saturday. "Ask (President) Obama about that."
On Monday, Rodman announced that he is planning to go back to North Korea for a third time and bring a team of former NBA players with him, the Associated Press reports.
Rodman said he will stage two exhibition basketball games there in January and hopes to have former NBA greats like Scottie Pippen and Karl Malone alongside him. He added that Kim Jong Un has asked him to train his players to compete in the 2016 Summer Olympics in Rio de Janeiro, Brazil.