Remains of US war dead retrieved from North Korea, White House says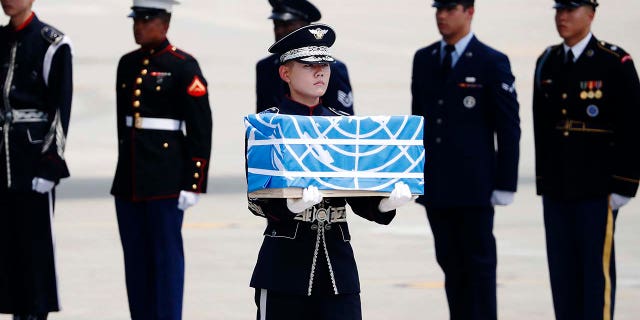 Fifty-five cases containing what were believed to be the remains of U.S. servicemen killed during the Korean War were returned Friday, the White House said.
The cases, each draped with the flag of the United Nations, arrived aboard a U.S. military plane at Osan Air Base outside Seoul, South Korea. Earlier, the plane and its crew had traveled to Wonsan, North Korea, to collect the remains, the White House said.
The transfer of the remains from the 1950-53 Korean War had been negotiated last month during a summit meeting in Singapore between President Trump and North Korean leader Kim Jong Un.
President Donald Trump tweeted about the return of the remains late Thursday, as the transfer mission was getting underway.
"The Remains of American Servicemen will soon be leaving North Korea and heading to the United States! After so many years, this will be a great moment for so many families. Thank you to Kim Jong Un," the president wrote.
US ANTICIPATES NORTH KOREA WILL RETURN REMAINS OF 55 SERVICE MEMBERS, OFFICIAL SAYS
About 7,700 U.S. soldiers are listed as missing from the 1950-53 Korean War, and 5,300 of the remains are believed to still be in North Korea. The war killed millions, including 36,000 American soldiers.
Officials in North Korea had no comment on the handover on Friday, the 65th anniversary of the end of the Korean War, which the country celebrated as the day of "victory in the fatherland liberation war."
Earlier Thursday, the White House released a statement confirming details about the transfer of the remains.
"At their historic meeting in Singapore, President Donald J. Trump and Chairman Kim Jong Un took a bold first step to achieve the complete denuclearization of the Korean Peninsula, transform relations between the United States and North Korea, and establish enduring peace," the statement said. "Today, the Chairman is fulfilling part of the commitment he made to the President to return our fallen American service members. We are encouraged by North Koreas actions and the momentum for positive change."
NORTH KOREA IS SAID TO BE POISED TO RETURN BODIES OF SOME 50 US VETS SOON: REPORT
Among the other results from the highly anticipated meeting, the two leaders signed a document that said Pyongyang would work toward "complete denuclearization of the Korean Peninsula."
A U.S. official previously told Fox News that the U.S. was expecting that the rogue regime would be sending back the remains Friday. However, the official said that nothing was set in stone until the U.S. plane leaves Wonsan with the remains.
Fox News' Greg Palkot, Lukas Mikelionis and the Associated Press contributed to this report.