Rebels warn they'll treat captured peacekeepers 'like criminals' in South Sudan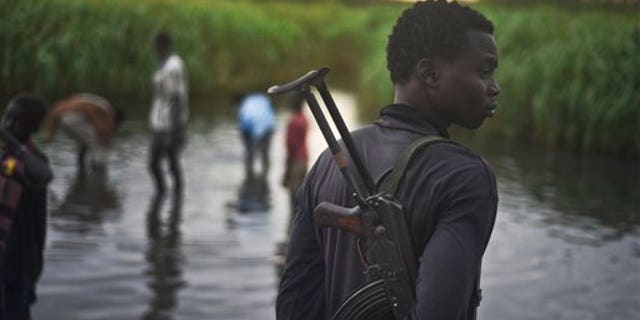 Rebels in South Sudan said Thursday they have seized U.N. river barges they suspected were transporting weapons for government troops, and have been holding 16 peacekeepers who were aboard them for three days.
The barges with a total of at least 27 people aboard, including crew members, were taken along the White Nile in a disputed area in the volatile state of Upper Nile.
James Gatdet Dak, a spokesman for rebel leader Riek Machar, said the barges were seized but did not specify how many.
Two government soldiers, three officers of the national security agency, and six barge technicians were also detained, said Nyagwal Ajak Dengkak, a spokesman for a rebel commander who controls the area. Rebel forces are taking "tough action against our enemies captured including U.N. soldiers currently disarmed and jailed for the world to know the truth of conspiracy between" the South Sudanese military and the U.N. mission, he said in a statement. The barges were seized on Monday, he said.
The U.N. troops in detention will be treated "like criminals," he said.
The barges were seized at Kaka, a settlement on the rebel-controlled west bank of the river. The east side, where the U.N. mission has bases, is held by government troops.
Ariane Quentier, a U.N. spokeswoman, said the mission is dealing with the situation.
Tens of thousands of people have died in South Sudan's civil war and over 2 million are displaced, according to the United Nations.
President Salva Kiir and rebel leader Machar signed a peace deal in August but fighting has continued. African Union investigators said in a report released Tuesday that they discovered atrocities by both sides in the conflict, including testimony of forced cannibalism and the discovery of mass graves.