Rallies, vigils in NYC and across U.S. for missing Mexican students ask for end of drug war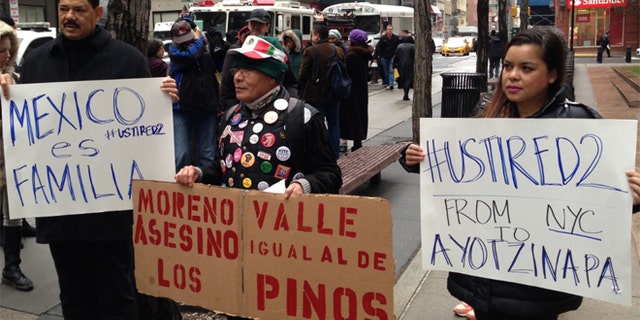 NEWYou can now listen to Fox News articles!
New York – A group of over a hundred academics, activists and students gathered Wednesday afternoon in New York City to protest the U.S. government's funding of the Mexican military in the midst of the unrest engulfing that country following the disappearance 43 students from a rural teachers' college.
Congregating in a cold rain outside the Jacob K. Javits Federal Building in Lower Manhattan, demonstrators from as far away as Santa Fe, New Mexico – some holding signs with messages like, "Mexico is family," in Spanish and the hashtag #USTired2 – are part of a group of more than 43 protests and vigils taking place across the U.S. on Wednesday to demand the end of U.S. government anti-drug funding to Mexico.
"The Mexican government has received more than $2 billion," said Maria Heyaca, a professor at John Jay College of Criminal Justice, told Fox News Latino. "What we're seeing with the disappearance of these 43 students is that it's not an isolated case. We're talking about more than 30,000 people who are disappeared in Mexico, more than 100,000 people have been murdered."
In late September, 43 students from the Raúl Isidro Burgos Rural Teachers' College of Ayotzinapa, Guerrero, disappeared after a clash with police in Iguala, about 100 miles southwest of Mexico City. While no definite remains have been uncovered, investigators believe they were murdered and burned in a mass grave.
Organizers of the Wednesday's demonstrations and vigils blame their disappearance and much of the pervasive violence in Mexico on the weapons and funding given to Mexico under the Mérida Initiative – also pejoratively known as "Plan Mexico" – which is a security agreement between the two countries signed in 2008 that, among other things, has provided $2.1 billion to Mexico to combat drug trafficking in the country.
While the Initiative is loosely modeled after a similar effort in Colombia, many critics claim that the plan is doing more harm than good – citing as evidence the widespread corruption in Mexico's civil police forces and a soaring murder rate since its implementation.
"The police in Mexico get these weapons, and they're corrupt as well, so they can sell them to other people who are not police, and those people murder other people," Martha León, a protester and student at the Borough of Manhattan College, told FNL. "It's a big connection to the war on drug, which is not really a war on drugs – it's just a war."
The violence related to the drug trade in Mexico escalated in 2006, when then-president Felipe Calderón declared an offensive against the drug cartels. More than 60,000 people were killed between 2006 and 2012 in the fighting that followed.
While many people hoped that President Enrique Peña Nieto would help lower the body count, the opposite has in fact happened with almost 13,000 people being slain in drug-related violence from December 2012, when he took office, through the end of July.
"It's happening from Ferguson to Mexico, this connection of the violence of the police state," said Jeronimo Saldaña, the legislative and organizing coordinator at the Drug Policy Alliance, told FNL. "Today we're here with Latinos making that connection that the war on drugs has failed."
Demonstrators in New York plan to gather later in evening in Times Square to hold an evening vigil for the missing students.
"I don't want to finance the killing of those students – who could have been my students," Heyaca said. "This disappearance of these students is an act of state-sponsored terrorism and we [U.S. citizens] are financing it."