Queen begins Nothern Ireland trip, to meet ex-IRA chief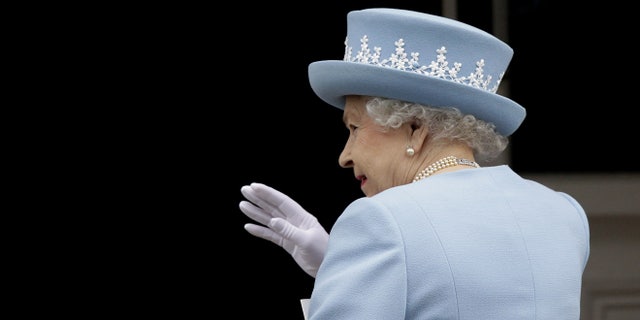 Queen Elizabeth II arrived in Northern Ireland on Tuesday to celebrate the British territory's hard-won peace in a town that suffered one of the IRA's worst massacres -- and inspired its greatest moment of Christian forgiveness.
Catholic and Protestant leaders from across Ireland united in Enniskillen at an ecumenical service in the monarch's honor as, outside in wind and rain, several thousand people waved Union Jack flags and banners honoring the queen amid an unrelenting din of pealing church bells.
The monarch's long-awaited meeting with former Irish Republican Army commander Martin McGuinness comes Wednesday in Belfast. But the start of her Northern Ireland tour was devoted to Enniskillen, where a no-warning IRA bomb in 1987 killed 11 Protestant civilians and wounded 63 others as they commemorated British dead from the two world wars.
"She's a total lady. We were nervous, but she made us feel at ease," said Stephen Gault, who was among a group of bombing survivors to meet the queen and her husband Prince Philip in a Protestant minister's home. Gault was wounded that day, while his 49-year-old father Sam was killed.
"Today brings back some terrible memories, to be sure," Gault said, "but above all it shows us that the Enniskillen victims have not been forgotten."
Widespread revulsion at the Enniskillen slaughter proved a threshold event in Northern Ireland's four-decade conflict, spurring McGuinness and other IRA chiefs to begin sounding out peace terms with Britain. McGuinness, now the senior Catholic in Northern Ireland's power-sharing government, refused to meet the queen during her landmark visit to the Republic of Ireland last year but says the time is finally right to mark lasting reconciliation with his old enemy.
But first the queen highlighted the impressive resilience of Enniskillen, whose British Protestant and Irish Catholic residents long avoided succumbing to the worst of Northern Ireland's sectarian passions. Locals invited the queen into the town's neighboring Protestant and Catholic cathedrals. The queen received thunderous applause as she entered St. Michael's Cathedral, her first visit to a Catholic Church in Northern Ireland during her 60-year reign.
Earlier, as she and her husband Prince Philip were honored at the Protestant St. Macartin's Cathedral, leaders of all the main churches took turns leading 700 dignitaries in hymns and prayers. The Protestant leader of the unity government, Peter Robinson, read from the Golden Rule of the Gospels. But no figures from McGuinness' party, the Irish nationalist Sinn Fein, were present in Enniskillen.
The pretty lakeside town, renowned for its fishing and its easy-going civility, barely featured in the conflict before that terrible Sunday morning in November 1987, when an IRA bomb beside the town's war memorial buried a crowd of Protestant families in rubble -- and one of its survivors moved the world as he described saying goodbye to his dying daughter beside him.
"She held my hand tightly and gripped me as hard as she could. She said, `Daddy, I love you very much.' Those were her exact words to me, and those were the last words I ever heard her say," a bloodied Gordon Wilson, an Enniskillen draper, said hours after the bomb killed his 20-year-old daughter Marie, a nurse. "But I bear no ill will. I bear no grudge. Dirty sort of talk is not going to bring her back to life. She was a great wee lassie. She loved her profession. She was a pet. She's dead. She's in Heaven and we shall meet again."
Of her IRA killers, he said: "I will pray for these men tonight and every night."
Wilson later met IRA commanders face to face to appeal for a cease-fire that finally came in 1994. Enniskillen's peacemaker died of a heart attack a year later aged 67, but others who survived the carnage that day, some maimed for life, said Wilson's spirit was guiding Tuesday's celebrations.
The queen is making her 20th trip to Northern Ireland since ascending to the throne in 1952. Her visit officially is to celebrate her 60th anniversary as monarch, but it is highlighting dramatically improved times in this long-turbulent corner of the United Kingdom following the U.S.-brokered Good Friday peace accord of 1998, and the 2007 formation of a stable Catholic-Protestant administration to replace British rule from London.
Despite the continuing threat from small IRA factions still plotting gun and bomb attacks, her trip was announced weeks in advance, a radical departure from the previous policy requiring a media blackout until her arrival. Security precautions were substantial but lower than the norm, with police in flak jackets lining the town's Church Street.
McGuinness, whom British and Irish officials say was an IRA commander from 1971 to 2005 when his Provisional IRA faction disarmed and renounced violence, has been the senior Catholic in Northern Ireland's power-sharing government since 2007. His longtime Protestant enemies, once deeply opposed to his involvement in governing a land he sought to overthrow by violence, today often express respect and even admiration for his leadership as a peacemaker.
McGuinness still is dogged by questions over his insistence that he quit the Provisional IRA in 1974 after he was convicted of membership in the outlawed group. Experts on Irish republicanism universally dismiss his claim as a lie designed to protect him from potential criminal prosecution or lawsuits by victims of Provisional IRA attacks. McGuinness' group killed about 1,775 people, including the queen's cousin Lord Louis Mountbatten in 1979.
Ed Moloney, an expert on Irish republicanism who wrote the definitive 2002 account "A Secret History of the IRA," said McGuinness was the Provisional IRA's chief of staff and "gave the order for him (Mountbatten) to be killed."
"The top IRA general on Aug. 27th, 1979, was Martin McGuinness. Without his say-so, Mountbatten would probably have lived for many years more," Moloney wrote on his blog Tuesday.
"While much of the media coverage has dwelt on the significance of the handshake from the point of view of Sinn Fein, the person who has actually made the greatest concession here is surely the queen," Moloney wrote. "Ask yourself this question: If you were asked to shake the hand of the man who killed your favorite uncle, would you do it?"