Qaddafi's Gas Stations Pose Dilemma for Europe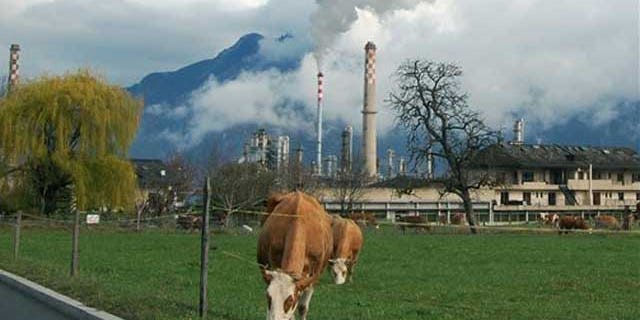 NEWYou can now listen to Fox News articles!
COLLOMBEY-MURAZ, Switzerland – Flames and smoke shoot up from the Libyan-owned oil refinery on the eastern tip of Lake Geneva, suggesting one of Muammar al-Qaddafi's outposts in Europe is still in business. As world powers tighten their military and financial grip around his regime, some governments are hesitating to freeze all of the assets controlled by the North African country's repressive ruler.
An Associated Press investigation has found that several European countries have accepted assurances from Libya's Tamoil petroleum company that none of its profits reach Tripoli. In return, Tamoil has been allowed to continue operating unchecked, despite the fact its parent company is on a United Nations sanctions list.
Officials at Tamoil's European headquarters didn't return requests for comment, but representatives at four of the group's national subsidiaries said they were abiding by the sanctions.
"No money from the gas stations flows, directly or indirectly, to persons or institutions subject to sanctions," Catrin Bedi, of Tamoil's German subsidiary, told AP. All money was reinvested to expand the German operation, she said.
Yet experts say European governments are being naive, or simply self-serving, in an attempt to protect European jobs and oil supplies.
"It's a political decision. It would be naive to think that Tamoil is independent," said Zurich-based money-laundering expert Michael Alkalay. He said Western governments that readily did business with Libya in recent years now criticize Qaddafi's regime but are doing little to clamp down on its assets, the most visible of which is Tamoil whose logo fronts gas stations from the Baltic Sea to the Mediterranean.
Gary Hufbauer, a former U.S. Treasury deputy assistant secretary in the Carter administration, said European governments — which like the U.S. have frozen Libyan cash deposits in their banks — are essentially taking Tamoil's word for it that the profits won't get back to Qaddafi.
"If the Europeans are serious about imposing the freeze, they shouldn't be allowing any money to be paid if it's going to any part of the Libyan regime," said Hufbauer, now a senior fellow with the Peterson Institute for International Economics in Washington.
World powers intentionally stopped short of naming Tamoil in their sanctions lists, he said, citing its importance to Europe.
The company's Swiss branch is registered in the southwestern town of Collombey-Muraz, where it operates a 72,000 barrels-per-day refinery that supplies more than 300 gas stations throughout Switzerland. Sister companies in Spain, Germany, the Netherlands and Italy operate 2,500 more gas stations, and there are two other refineries in Hamburg, Germany, and Cremona, Italy.
The refineries' combined capacity is 255,000 barrels of crude oil a day, or about 2 percent of the 14 million barrels that power Europe daily. Libya was producing 1.58 million barrels a day of crude oil in January, according to International Energy Agency figures.
All are part of a Dutch-based holding company, Oilinvest (Netherlands) B.V., whose sales ran to some $10 billion in 2009. Oilinvest, in turn, is owned by the Libyan Investment Authority, the country's sovereign wealth fund estimated to be worth $65 billion. Last month, the LIA was placed under international sanctions on the grounds that it is controlled by Qaddafi or persons close to him.
Tamoil's links to the regime, however, aren't enough for Switzerland to shut it down, according to the Swiss State Secretariat for Economic Affairs, or SECO.
"Tamoil has pledged in writing to SECO to fully respect the sanctions imposed by the Swiss Federal Council, in particular not to make any payments or transfer other assets, in whichever form, to natural or legal persons who are subject to sanctions," spokeswoman Antje Baertschi told AP. She acknowledged that Switzerland isn't checking whether Tamoil is living up to its pledge, nor could she say when Tamoil made its last payment to Libya.
"It's not possible to monitor all transactions," she said.
A spokesman for Germany's Economy Ministry, who spoke on condition of anonymity, said Berlin was satisfied Tamoil would comply with international sanctions after receiving written assurances. Monitoring compliance was a matter for the prosecutors, he said. But in a sign that some Tamoil entities are prepared to go further to protect their operations, the company's German spokeswoman, Bedi, said an external auditor would be given access to its books.
Meanwhile, Italy's Finance Ministry said in a statement last week that "no freezing measure has been adopted toward Tamoil Italia S.p.a," which it said was "collaborating with the authorities to ensure the adopted international sanctions are respected fully regarding the situation in Libya."
Charles Huyskens, a spokesman for Tamoil's branch in the Netherlands, told AP the company had struck a deal with the Dutch government. "The operation here is business as usual, but the guarantee is that they will not transfer money abroad or to any shareholder or whatever," he said. Finance Ministry spokesman Niels Redeker disputed this, saying the government was still in talks with Tamoil "to prevent (cash) reserves from reaching entities on the banned list. But these are talks and have not led to any agreement."
Dutch opposition lawmaker Harry van Bommel said Tamoil's many shell companies in tax havens — from Monaco to Curacao in the Caribbean — make it impossible to guard against Qaddafi's allies funneling money out of the company.
"All assets of Tamoil should be frozen, period," he said. "We're talking about U.N. resolutions, we're talking about Qaddafi who is willing to kill his own people. Would he not ask a company under his control to transfer assets?"
U.S. sanctions apply to anything owned or controlled by the government of Libya, which would include Tamoil if it did business with or processed payments through the U.S., said a senior U.S. Treasury Department official, speaking on condition of anonymity because of the sensitivity of the matter.
After Libya agreed to scrap its secret nuclear weapons program and compensate victims of terrorist attacks, the U.S. in 2006 rescinded its designation as a state sponsor of terrorism. And with the country emerging from international isolation, western firms rushed to sign oil exploration deals. Libya's more than 46 billion barrels of oil reserves are the largest in Africa and all but five percent of its exports come from oil.
Flush with petrodollars, Libya invested heavily in foreign assets, from Spanish banks to Italian football clubs, and a growing network of petroleum companies in the long chain stretching from supplier to consumer.
EU documents show that the 27-nation bloc has used financial sanctions against Iran, Iraq, Myanmar, North Korea, Yugoslavia, Zimbabwe as well as Libya. In recent years there have been increasing calls for "targeted" financial sanctions that aim to freeze a person or a company's profits, rather than shut it down and cause broader economic distress.
Enrico Carisch, a U.S.-based Swiss field investigator who has worked for the U.N. enforcing sanctions against Somalia, Liberia, Congo and Sudan, said Tamoil's profits should be frozen rather than simply shut down.
"Every government has to conduct due diligence to make sure they are not inadvertently contributing to the problem," he said. "The enemy is not Libyan workers, the enemy is not Libyan companies. The enemy is those who derive benefits from the Libyan oil and use them against the Libyan people."
One argument for keeping Tamoil afloat is that any future government in Libya would be entitled to reclaim ownership over the company on behalf of ordinary Libyans. An attempt by Los Angeles-based private investment firm Colony Capital LLC in 2007 to buy a 65 percent stake in Tamoil and Oilinvest from the Libyan government valued the entire company at over $8 billion. The deal never came off.
Sven Behrendt, a Geneva-based expert on sovereign wealth funds, said Tamoil may only be the most visible tip of the Libyan Investment Authority's assets. He recently ranked the LIA among the least transparent of some two dozen sovereign wealth funds, making it difficult for governments to fully know what it owns or controls.
The most immediate threat to the company's operations may be its rivals. Royal Dutch Shell has halted a supply agreement with Tamoil in the Netherlands, citing the international sanctions. The parties are due in court next week.
Meanwhile, a monthlong maintenance period at the Swiss refinery has been brought forward to April due to "uneconomical margins," a spokesman there said.
___
Toby Sterling in Amsterdam and Randy Herschaft in New York contributed to this report.