Qaddafi's Daughter Sends Defiant Message From Father's Compound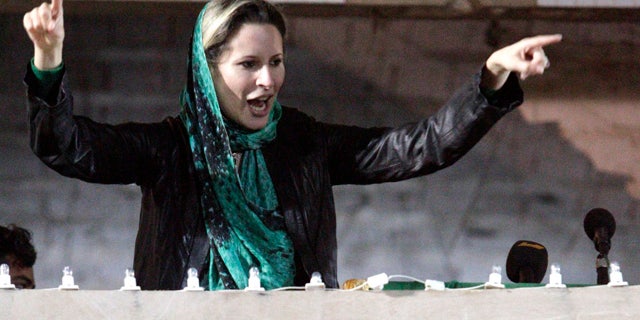 NEWYou can now listen to Fox News articles!
TRIPOLI, Libya – From her father's compound, struck by U.S. bombs exactly 25 years ago, Muammar al-Qaddafi's daughter sent a defiant message early Friday: Libya was not defeated by airstrikes then and won't be defeated now, she told a cheering crowd.
The daughter, Aisha, pumped her right fist as she led the audience in late-night chants from the second-floor balcony of the badly damaged Bab Aziziyah compound, targeted by U.S. warplanes in 1986. "Leave our skies with your bombs," she said, referring to NATO airstrikes that had struck Tripoli just hours earlier.
Qaddafi, in power for 42 years, has been testing the international community's resolve on the battle field. On Thursday, his forces shelled the besieged western Libyan town of Misrata, where rebels are clinging to positions near the port area, their only link to the outside world.
U.S. Secretary of State Hillary Rodham Clinton told NATO foreign ministers meeting in Berlin on Thursday that Qaddafi is taunting the alliance by continuing to strike cities held by the rebels seeking his overthrow.
"As our mission continues, maintaining our resolve and unity only grows more important," Clinton said. NATO members agree that Qaddafi has to go to end the crisis in Libya, but made clear they are not the ones to oust him.
The Libyan leader has a long and troubled history with the West. In the 1980s, he was seen as sponsor of militant groups, and Libya's secret service was held responsible for the April 5, 1986 bombing of a Berlin disco that killed two U.S. servicemen. Ten days later, U.S. warplanes struck targets in Benghazi and Tripoli, including Qaddafi's Bab Aziziyah compound. Dozens were killed in the strikes. Qaddafi never repaired Bab Aziziyah, instead turning it into a museum.
Hundreds rallied there late Thursday and early Friday, chanting pro-Qaddafi slogans, such as "Only Allah, Moammar and Libya," and "The people want Moammar as their leader."
The crowd erupted in cheers when Aisha appeared on the balcony.
"Let me go back to the past when I was a child, when I was nine years old, in this house," she said. "A rain of missiles and bombs. They tried to kill me. They killed dozens of children in Libya."
"Now, after 25 years, the same missiles, the same bombs, rain on our children's heads," she said.
"We are a people that cannot be defeated," she added.