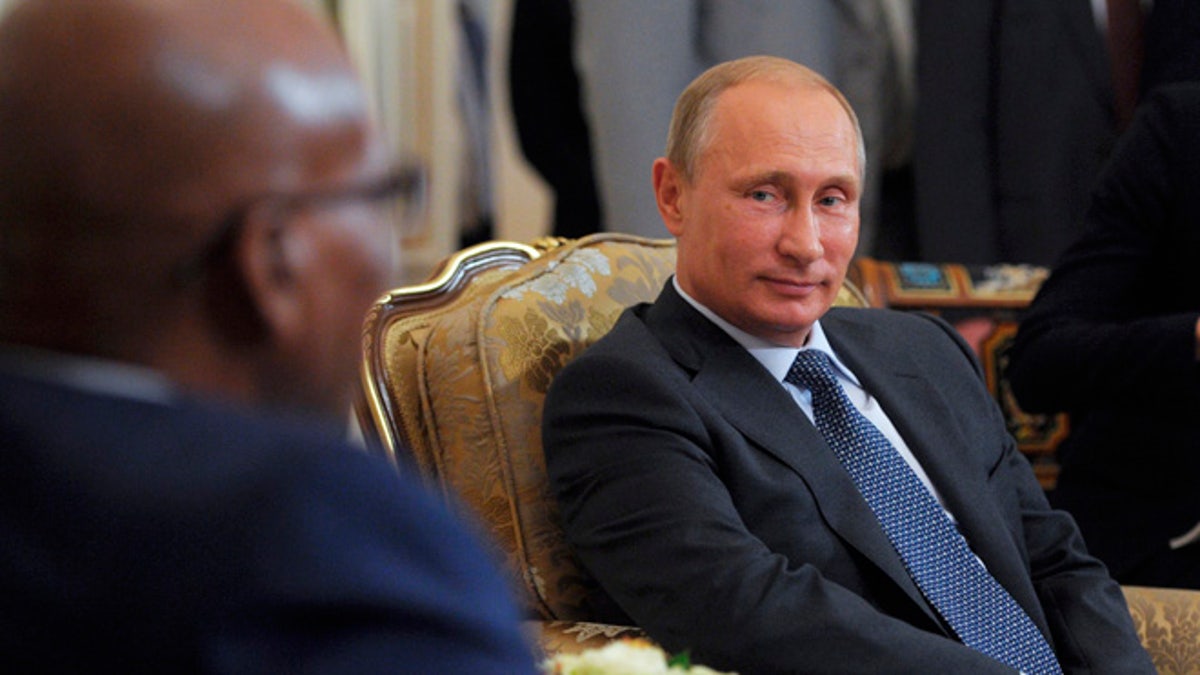 Russian President Vladimir Putin made an appeal Friday for pro-Russian separatists to release Ukrainian soldiers trapped in eastern Ukraine.
Putin's statement came several hours after Ukraine accused Russia of entering its territory with tanks, artillery and troops, prompting fears that Russia is creating a land link between its territory and Crimea.
"I'm calling on insurgents to open a humanitarian corridor for Ukrainian troops who were surrounded in order to avoid senseless deaths," Putin said in the statement published on the Kremlin's website in the early hours on Friday.
Putin did not address the claims about Russia's military presence in Ukraine. Instead, he lauded the pro-Russian separatists whom he described as "insurgents" for "undermining Kiev's military operation which threatened lives of the residents of Donbass and has already led to a colossal death toll among civilians."
Putin's statement could be referring to Ukrainian troops who have been trapped outside the strategic town of Ilovaysk, east of Donetsk, for nearly a week now.
The statement follows several weeks of Russian military action in Ukraine. Tanks, armor and soldiers have been streaming across the border, and on Thursday, NATO released several images from last week that show purported Russian tank columns.
"This is like watching a frog boil," a Pentagon official told Fox News. "They turn up the heat."
U.S. officials tell Fox News that they believe that Russian special forces are fighting in Ukraine, with one saying "if you look at a Russian separatist, it is basically a Russian soldier."
A senior U.S. defense official also told Fox News that the Pentagon has seen evidence that Russia has fired artillery inside Ukrainian territory at Ukraine military positions in recent days.
"This is not the first time," the official said. However, U.S. officials are not ready to declare that Russia has begun invading Ukraine.
Meanwhile, a Russian separatist said Thursday that there were up to 4,000 Russian troops in Ukraine.
"We have never hidden from anybody (the fact) there are many Russians among us," Alexander Zakharchenko, the prime minister of the self-proclaimed Donetsk Poeple's Republic, said at a press conference. "Without their help it would be very difficult for us to fight."
Brig. Gen. Nico Tak, a top NATO official, told reporters at NATO headquarters that the ultimate aim of Russia was to stave off defeat for the separatists and turn eastern Ukraine into a "frozen conflict" that would destabilize the country "indefinitely."
A top rebel leader in the rebel stronghold of Donetsk promptly reacted to Putin's appeal but said the Ukrainian troops would have to lay down the arms before they were allowed to go.
"With all our respect to Vladimir Vladimirovich Putin, the president of a country which gives us moral support, we are ready to open humanitarian corridors to the Ukrainian troops who were surrounded with the condition that they surrender heavy weaponry and ammunition so that this weaponry and ammunition will not be used against us in future," Alexander Zakharchenko said on Russia's state Rossiya 24 television.
President Obama spoke with German Chancellor Angela Merkel, who has been a key power broker between the West and Russia, and both leaders agreed Russia must face consequences for its actions.
Obama ruled out a military confrontation between the U.S. and Russia. He said Russia's activity in Ukraine would incur "more costs and consequences," though these seemed to be limited to economic pressure that will be discussed when Obama meets with European leaders at a NATO summit in Wales next week.
In a phone conversation with Ukraine's President Petro Poroshenko late on Friday, Merkel assured the Ukrainian leader of her support for "decisive actions" that could be taken at a European Council meeting on Aug. 30, Poroshenko's press office said.
The Associated Press contributed to this report.