Public feud erupts between Palestinian leader, arch foe with claims of deceit, corruption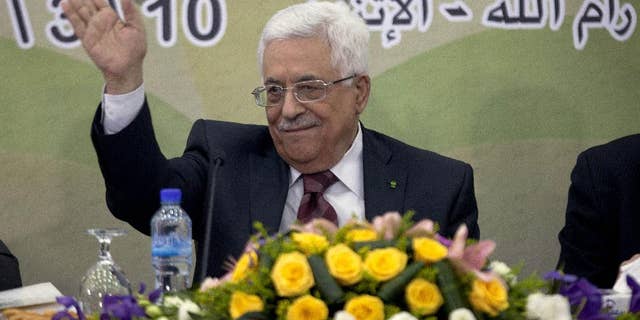 RAMALLAH, West Bank – A long-running feud between Palestinian President Mahmoud Abbas and a powerful former operative in his Fatah movement has burst into the open, with Abbas accusing him of deceit, corruption and selling out Palestinian national interests to foreign powers.
In a speech to Fatah leaders this week, Abbas also insinuated that exiled foe Mohammed Dahlan, who appears to have renewed leadership ambitions, could have played a role in the mysterious 2004 death of Palestinian leader Yasser Arafat.
Abbas' hour-long laundry list of accusations against Dahlan — delivered to a closed-door meeting Monday but later released publicly — signaled that the battle over who will succeed the 79-year-old Palestinian president is heating up.
Dahlan, 52, responded Thursday, writing on his Facebook page that Abbas' speech was "full of lies and deception."
Fatah is known for epic internal feuds, but Abbas' speech marked the first time he entered the fray so publicly. Abbas said Dahlan would never be allowed to return to Fatah and suggested there is no room in the party for those still loyal to the former Gaza strongman.
Abbas' offensive against Dahlan could backfire by drawing new attention to long-standing allegations of top-level corruption in the Palestinian leadership.
It also raised questions about why Abbas kept Dahlan on as his right-hand man if he believed his then-protégé had been involved in major corruption and sold out Palestinian interests to the U.S. and Israel, as Abbas now claims.
Abbas banished Dahlan in 2010, after Dahlan purportedly called him weak and criticized Abbas' two adult sons. Dahlan has since spent his time shuttling between Egypt and the United Arab Emirates.
In an interview with The Associated Press last month, Dahlan spoke of his aid projects in his native Gaza Strip and in Lebanon, fueled by millions in Gulf aid dollars that are his to distribute. He described his close ties with Egypt's military leaders and spoke of his conviction that Abbas left the Palestinian national cause in tatters.
Dahlan said at the time he is "not looking for any post" after Abbas retires, but called for new elections and an overhaul of Fatah.
Abbas was elected in 2005, but overstayed his five-year term because a split between Fatah and the Islamic militant Hamas, which seized Gaza from Abbas in 2007, had prevented new elections.
Abbas has not designated a successor or said when he might retire, and there is no apparent contender. A Fatah party conference where a new leadership would be elected is due in August, but it remains unclear whether it will take place.
In his speech to Fatah, Abbas claimed that in Arafat's final years, Dahlan pushed to have the Palestinian leader replaced. Arafat died in November 2004, after a sudden illness, and the Palestinian leadership believes he was poisoned in a plot hatched by Israel. Israel has denied involvement.
"Who killed Yasser Arafat?" Abbas asked. "This (description of Dahlan's actions) is not proof, but it is a hint that deserves to be looked into, specifically since we are thinking about who gave the poison to Arafat."
Dahlan said Thursday he will "uncover all the lies, particularly concerning the assassination of Yasser Arafat."