Prince William, Kate surprise commuters at charity appeal outside tube station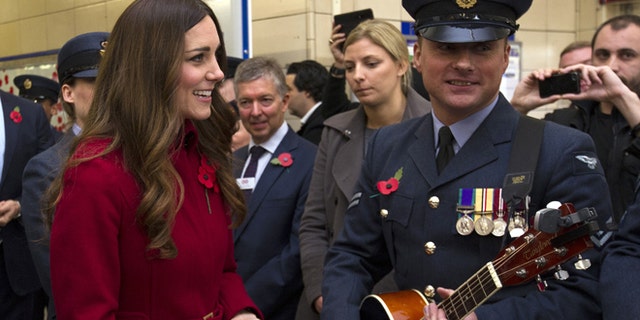 LONDON – Princes William and Harry are out in London to show their support for British servicemen.
William and his wife, Kate, surprised hundreds of commuters as they joined a charity appeal outside a London tube station on Thursday.
Around 2,000 volunteers, including uniformed personnel and veterans, are hitting London's streets Thursday for the Royal British Legion's "Poppy Day" charity appeal ahead of Remembrance Sunday, when Britons honor their war dead.
The appeal is aiming to raise 1 million pounds ($1.6 million) in a day.
The Royal British Legion provides care and support to current and former members of the U.K. armed forces and their families.
Harry joined his grandfather, Prince Philip, in a ceremony on the grounds of Westminster Abbey to remember fallen soldiers.