Priest stabbed in neck as he said mass in Mexico City's cathedral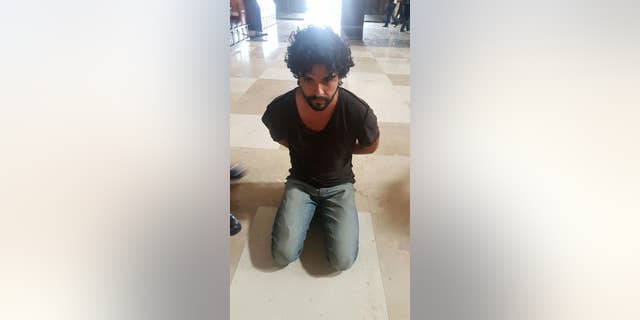 A Mexican priest was stabbed in the neck while he was saying mass in Mexico City's cathedral Monday evening.
Witnesses say it looked like the attacker's intention was to slit his throat.
Father Miguel Angel Machorro remains in critical condition, a spokesman for the Archdiocese of Mexico said.
MEXICO'S CATHOLIC CHURCH CALLS FOR SEARCH FOR MISSING PRIEST
The attacker, who was caught as was trying to run away, identified himself as a U.S. national. Mexican authorities identified him as John René Rock Schild, 35. The man said he is an artist and refused to offer any information that could incriminate him, Mexico City prosecutors said.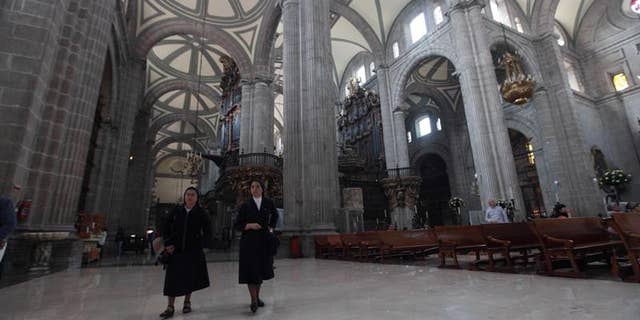 At a news conference, a lawyer of the archdiocese, Armando Martínez, said they needed more information to draw any conclusions.
"We cannot talk about terrorism, we cannot talk about motives because we obviously have no significant facts," he said.
MEXICO'S CATHOLIC CHURCH: WORK ON TRUMP WALL IS TREASON
The stabbing took place in front of dozens of worshipers at the Mexico City cathedral, Latin America's largest and a popular tourist draw on the landmark Zocalo square.
In a radio interview Tuesday morning, archdiocese spokesman Hugo Valdelomar provided some details of the attack.
"After celebrating mass at the high altar, Father Miguel came down [to the pews] to bless worshipers with holy water and when he turned to walk back to the altar, the man stops him and tries to slit his throat," he said. "He grabbed his neck and tried to slit his throat."
ANOTHER PRIEST GOES MISSING IN NORTHERN MEXICO, CATHOLIC CHURCH DEMANDS ACTION
Valdemar said that Father Miguel sustained serious wounds near the jugular vein and the lung and was bleeding profusely.
"We almost lost him right there," he said.
The spokesman said that the attacker showed extreme coldness and declared he was not a Muslim nor did he belong to any Islamic movement. He noted that when the man was arrested he reserved his right to testify — "that means that he is not so crazy either, shall we say," Valdelomar said.