Political Prisoners Have Castro in a Pickle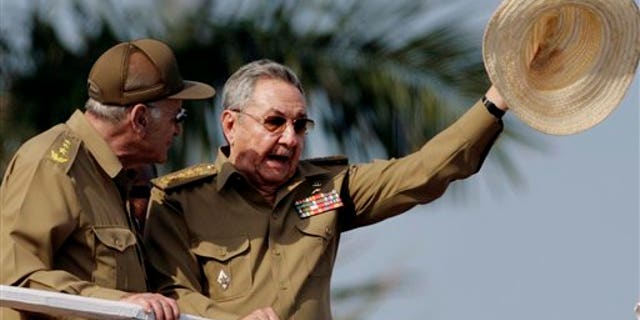 They want out of jail, but not out of Cuba.
And that may well be what keeps 13 political prisoners in Cuba behind bars despite indications earlier this year that they could be released by Nov. 7.
Cuban officials have agreed to release other political prisoners in exchange for their agreement to leave Cuba. But some political prisoners have said they will not be "deported" from their own homeland, and some have vowed to continue to press for human rights if they ever regain their freedom.
"The Cuban regime is in a political and diplomatic quandary right now," said Luis Israel Abreu, a former Cuban political prisoner and executive director of the Committee to Aid Cuban Rights Activists.
"It basically promised to release these political prisoners because it hoped to improve its standing in the international community," said Abreu, who lives in New Jersey, "but it does not want them out in the streets again, opposing the regime publicly and organizing dissidents. At the same time, if it keeps them in jail, it will be criticized for continuing to detain people for their political beliefs."
The prisoners were among 75 people who were jailed in 2003 – when Fidel Castro was president -- as part of a massive crackdown on dissidents.
The arrested included human rights activists and independent journalists. Most were charged with treason and conspiring with the United States to destabilize the government, which they denied.
The Cuban government has been releasing the prisoners in piecemeal style, often after arrangements with Havana's Roman Catholic cardinal, Jaime Ortega, and officials of Spain, where Cuban has sent many of them to live.
One of those prisoners, Pedro Pablo Alvarez, who was released in 2008 after agreeing to go to Spain, said that dissidents wrestle with the choice they must make, between leaving the nation they were willing to take great risks for, or staying locked up.
"I did not want to leave Cuba," said Alvarez, who was taken by Cuban authorities straight from the jail to a Spain-bound plane in 2008. "I fought against the regime, the oppression, for more than 40 years, like the dissidents did. You don't devote yourself to the human rights struggle so completely then strike a deal with the oppressors without enormous soul-searching and regret."
Alvarez, who now lives in Miami, said he supports those still in jail who refuse be exiled.
"I wish now that I had stayed, that I had taken the dignified stand that these activists -- each of whom is a close friend, a brother -- are taking," he said. "I don't fault anyone who opts to go into exile, many of the dissidents have families whose lives are upended by their imprisonment. I was older, 60 years old, and that was a reason I chose exile. They said 'We'll release you if you leave the country, otherwise, we keep you behind bars.'"
In July, Catholic Church officials in Cuba said that President Raul Castro, brother of Fidel – who stepped down due to illness – had agreed to release the remaining of the prisoners held since 2003.
The church officials indicated that they believed the deadline for the release was November 7, though Cuban political officials have never publicly addressed the release or a deadline.
The condition for the release, church officials in Cuba indicated to reporters, was that the prisoners were to leave Cuba, most likely to Spain.
A sense of urgency in releasing the prisoners set in after one of them, Orlando Zapata Tamayo, died earlier this year following a hunger strike. Although he was not the first political prisoner to die after a hunger strike, in the age of the Internet, news of it made its way around the world immediately, reportedly exasperating Cuban officials.
Another political prisoner, Guillermo Farinas, also staged a 134-day hunger strike, falling critically ill at one point. Farinas, who won Europe's Sakharov human rights award in October, went off the hunger strike, but vows to resume on Nov. 8 if Cuba continues jailing the dissidents who refuse to be exiled.
Observers of Cuban government policies say that Raul Castro seems interested in gaining credibility with the European Union, and perhaps the United States – long an arch-enemy – in order to obtain credit and alleviate Cuba's increasingly ailing economy.
"He seems aware that he must show some good-faith effort to address human rights concerns and the issue of political prisoners if he is going to make gains toward persuading other countries to do business with Cuba," Abreu said.
Efforts to get a comment from officials at the Cuban Interests Section in Washington D.C. were unsuccessful.
"These last political prisoners are a particularly brave group," said Omar Lopez Montenegro, director of human rights for the Cuban American National Foundation, the largest Cuban exile group in the world.
"They can be free, leave it all behind, start new, if they accept the Cuban government's conditions. But they are heroes, they will not be silenced about democracy and freedom in Cuba by being banished from their country."