Police in Honduras arrest 3 in murder of activist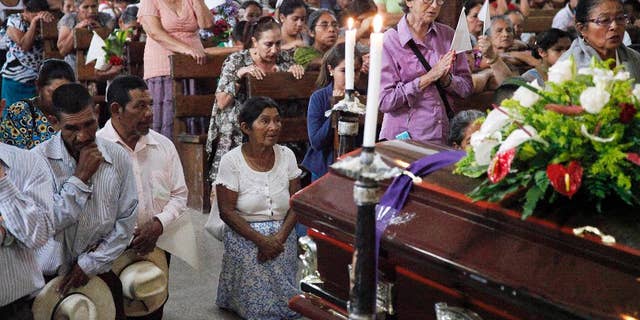 NEWYou can now listen to Fox News articles!
MEXICO CITY – Authorities in Honduras said Wednesday that they have arrested three suspects in the murder of an environmental and indigenous rights activist — the third slaying victim from the same organization in four months.
Two men and a minor were arrested in connection with the murder of Lesbia Janeth Urquia, the Public Ministry said in a statement. One of the men is the brother-in-law of the victim and officials said the killing appeared to be the result of a family dispute.
But the Civic Council of Popular and Indigenous Organizations of Honduras, with which Urquia was affiliated, rejected the theory. Last week it had blamed the government for her death.
COPINH coordinator Tomas Gomez said Wednesday that authorities are trying to discredit their work fighting a local hydroelectric project and protecting the environment.
Gomez said officials have insisted that "the murder has nothing to do with the political decisions about granting concessions and the privatization of natural resources." Gomez said.
Urquia's body was found last week in a garbage dump in Marcala in western Honduras. She had disappeared Tuesday afternoon after going out to ride her bicycle.
It came four months after the murder of internationally recognized environmentalist Berta Caceres of COPINH. Another activist from the same organization, Nelson Garcia, was killed two weeks after Caceres.
Authorities have arrested four people in Caceres death, including an active-duty army officer and at least one man who worked for a hydroelectric project she opposed.
Global Witness, a London-based organization, considers Honduras the world's most dangerous country for environmentalists. According to its count, 111 activists were killed between 2002 and 2014.
COPINH said last week that Urquia was an outspoken opponent of hydroelectric projects in the La Paz region, particularly the Aurora I dam.
But the Public Ministry said that Urquia's brother-in-law, Manuel Orlando Lopez Ortiz, had threatened her over a dispute about an inheritance with her sister. It said he contracted two others to kill her.