Police arrest NYC man accused of making girlfriend parade naked on street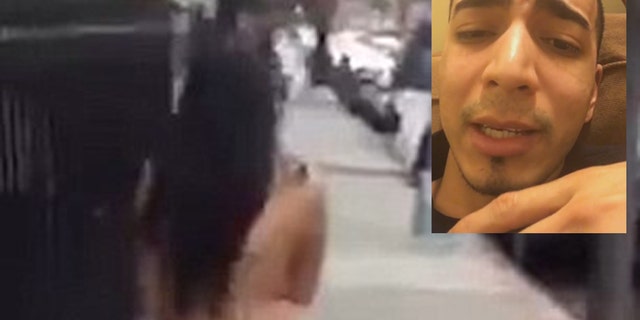 A man who allegedly threatened to kill his girlfriend unless she walked naked on the streets of New York City's Harlem was arrested on charges of choking, child abuse, coercion and assault.
The New York Daily News is reporting that NYPD officers arrested Jason Melo, 24, on suspicion of beating and choking his girlfriend in front of her 3-year-old child because she flirted with other men.
Sources told the paper that Melo then punched her in the face and threatened to kill her if she didn't walk out into the freezing January day.
As she walked down the street wearing only a towel and boots, Melo recorded her, taunting her in Spanish with things like, "Participate, pretty doggie," "pay the price of your shame" and "pose there, next to the other trash."
The poor woman's sin? Communicating with other men.
"After I had told you how pretty you are and that I wanted to have a family with you," he can be heard saying on the video, "and you talking to seven men."
He also warned the 22-year-old woman, whose identity is being withheld, her that he would post the video online and "let the world decide" about her transgression.
The original post has been removed, but the website LiveLeak.com published a portion of the video, and social media caught notice of it.
So did one powerful New Yorker, Mayor Bill de Blasio's wife, Chirlane McCray, who was quoted by the Daily News as saying, "Posting that video online perpetuated the abuse, which New York City does not tolerate. We are steadfast in our efforts to make sure all victims of abuse are aware of the many resources available as we strive to make New York City's public and private spaces safe for all women and girls."
Before his arrest late Wednesday, Melo took to Instagram to defend his actions in the creation and distribution on the video. In a series of posts, he speaks directly into the camera and to those who would judge him.
"I ask forgiveness of all the ladies," he said in Spanish. "I feel bad as a man."
But he also pleaded, "I'm not as bad as they're painting me … So many things have happened to me since [posting the video]. I don't feel well, and I have had thoughts of taking my own life."
Like us on Facebook
Follow us on Twitter & Instagram