Police arrest more than 500 after vandalism at Toronto economic summit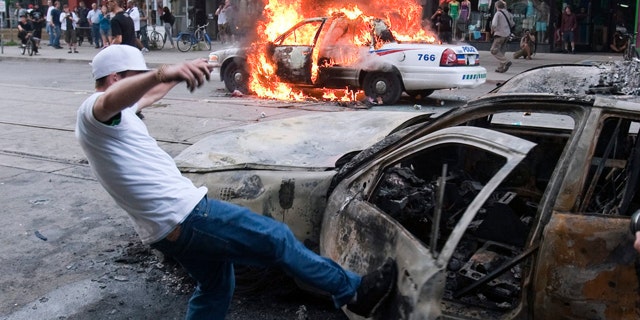 TORONTO – TORONTO (AP) — Police conducted a large raid and rounded up more protesters Sunday in an effort to quell further violence at the global economic summit after black-clad youths rampaged through the city, smashing windows and torching police cruisers.
Police said they have arrested more than 500 demonstrators, many of whom were hauled away in plastic handcuffs and taken to a temporary holding center constructed for the summit.
Thousands of police in riot gear formed cordons to prevent radical anti-globalization demonstrations from breaching the steel and concrete security fence surrounding the Group of 20 summit site.
Toronto Police Sgt. Tim Burrows said police made at least 50 arrests in a Sunday morning raid on a building on the campus of the University of Toronto, where they seized a cache of "street-type weaponry" such as bricks, sticks and rocks.
"We think we put a dent in their numbers with this and with the arrests that happened overnight," Burrows said.
The disorder and vandalism occurred just blocks from where U.S. President Barack Obama and other world leaders were meeting and staying.
"What we saw yesterday is a bunch of thugs that pretend to have a difference of opinion with policies and instead choose violence to express those so-called differences of opinion," Prime Minister Stephen Harper's chief spokesman Dimitri Soudas said Sunday.
The streets of downtown Toronto were quiet at daylight, but Burrows said a protesters gathered Sunday morning at a park near the detention center — about 2.5 miles (four kilometers) east of where the leaders are meeting. Police went into the crowd and made some arrests.
Burrows said many of the violent protesters were Canadian. He added that authorities had known of their plans for some time.
"We're not sure we have the leaders, but we have a large proportion of those people and the people who decided they wanted to be influenced by these violent protesters and join with their cause," Burrows said. "A lot of them were home grown. There's a lot of Canadian talent in the group."
Two security guards at a downtown department store witnessed two men emerging from a manhole around 1:30 a.m. more than four blocks north of the security perimeter. The windows of the Hudson's Bay Company store had been damaged earlier during the protests.
"I noticed the manhole cover pop up off the ground and I saw two guys pop up," security guard Peter Panagopoulos said. "My partner saw the police, waved them down. ... In about two minutes there were about 30 to 40 police officers here and they just were all over the boys."
Panagopoulous said he was "freaked out."
"You never know what the hell is going down — there could be bombs. Who knows what is down there."
Police later welded the manhole cover.
Thousands of police headed to Toronto to reinforce security there after the smaller Group of Eight summit ended Saturday in Huntsville, Ontario, about 140 miles (225 kilometers) away. Security was being provided by an estimated 19,000 law enforcement officers drawn from across Canada, and security costs were estimated at more than US$900 million.
Saturday's protests began with a peaceful march, sponsored by labor unions and dubbed family friendly, that was the largest demonstration planned during the summit weekend. Its organizers had hoped to draw a crowd of 10,000, but only about half that number turned out on a rainy day.
Police in riot gear and riding bikes formed a blockade, keeping protesters from approaching the security fence a few blocks south of the march route. Police closed a stretch of Toronto's subway system along the protest route and the largest shopping mall downtown closed after the protest took a turn for the worse.
The black-clad demonstrators broke off from the larger crowd of peaceful protesters and began torching police cars and smashing shop windows.
Toronto Police Chief Bill Blair said the goal of the militant protesters was to draw police away from the security perimeter of the summit so that fellow protesters could attempt to disrupt the meeting.
Some police officers were struck by rocks and bottles and assaulted, but none was injured badly enough to stop working, Blair said.
"We have never seen that level of wanton criminality and vandalism and destruction on our streets," Blair said.
Previous global summit protests have turned violent. In 1999, 50,000 protesters shut down World Trade Organization sessions in Seattle as police fired tear gas and rubber bullets. There were some 600 arrests and $3 million in property damage. One man died after clashes with police at a G-20 meeting held in London in April 2009.
At the September G-20 summit in Pittsburgh, police fired canisters of pepper spray and smoke and rubber bullets at marchers.
____
Associated Press Writers Ian Harrison and Charmaine Noronha contributed to this report.