Police, anti-government protesters clash in Thailand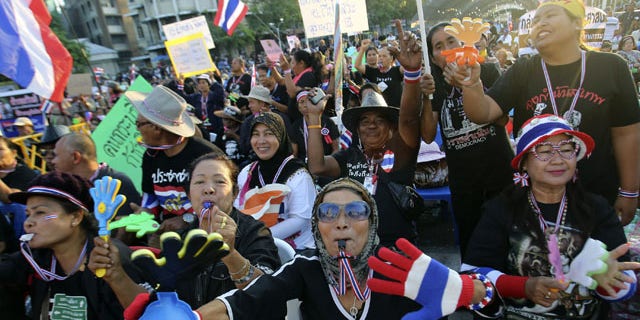 Riot police fired tear gas at anti-government mobs trying to force their way into the prime minister's office complex and Bangkok's police headquarters on Sunday, deepening Thailand's political crisis and raising fears of prolonged instability in one of Southeast Asia's biggest economies.
Mobs also besieged at least three television stations demanding they broadcast the protesters' views and not the government's. One of those TV stations is government run, the other is owned by the military and the third is independent.
The protesters who mainly support the opposition Democrat Party are aiming to topple the government of Prime Minister Yingluck Shinawatra, accusing her of being a puppet of her brother, former Prime Minister Thaksin Shinawatra, who was ousted by a 2006 military coup after being accused of corruption and abuse of power. They want to replace her elected government with an unelected "people's council," but have been vague about what that means.
More than 1,000 protesters were seen trying to rip down concrete barriers outside the Government House but were pushed back by police who fired tear gas and water cannons. A few kilometers (miles) away, police drove back another crowd of protesters at the Bangkok police headquarters.
"We're all brothers and sisters," police shouted through a loudspeaker before firing tear gas. "Please don't try to come in!"
The initial burst of tear gas dispersed the mob but they regrouped and heckled police from a distance. No injuries were reported.
Also Sunday, several shopping malls in downtown Bangkok were shut, and police blocked access to their national headquarters.
Any further deterioration of security is likely to scare away investors as well as tourists who come to Thailand by the millions and contribute 10 percent to the $602 billion economy, Southeast Asia's second largest after Indonesia. It is also likely to undermine Thailand's democracy, which had built up in fits and starts amid a history of coups.
Still, violence by the opposition may help the government undermine its foes who claim to be carrying out a nonviolent campaign of civil disobedience. Until now, the protests were peaceful, attended by up to 100,000 people in the Thai capital. They are mostly middle-class Bangkok residents who have been part of the anti-Thaksin movement for several years, and people brought in from the Democrat Party strongholds in the southern provinces.
During the past week, the protesters had seized the Finance Ministry, turned off power at police headquarters, camped at a sprawling government office complex and briefly broken into the army headquarters compound to urge the military to support them.
The violence has stirred fears of further instability like what plagued the country during related political conflicts in 2006, 2008 and 2010. In 2008, anti-Thaksin demonstrators occupied Bangkok's two airports for a week after taking over the prime minister's office for three months.
Tensions began to rise Saturday night after pro- and anti-government groups clashed in a northeastern Bangkok neighborhood and unidentified gunmen shot and killed two people. At least 45 people were injured.
Gunshots were fired in the same area early Sunday, but it was not clear who was responsible or targeted, said police Col. Narongrit Promsawat. The violence occurred near a stadium holding a large pro-government rally.
At least some of Sunday's gunshots appeared to have been fired into the nearby Ramkhamhaeng University, according to its rector, Wutthisak Larpcharoensap.
Authorities have exercised extreme restraint over the past week as the protesters besieged and occupied parts of various government ministries and offices.
Police called for calm in a televised statement, saying they were helping to escort both sides out of the area safely. Organizers of the pro-government "Red Shirt" rally at the stadium called off the event for safety reasons and sent people home Sunday, after many spent the night camped inside.
On Saturday, government opponents had gathered outside the stadium and jeered Red Shirt government supporters. Two men wearing red shirts were grabbed, one from the back of a motorbike, and beaten. Two buses were attacked, their windows smashed as passengers cowered inside. One protester used an iron rod with a Thai flag wrapped around it to smash the driver's side window of one bus.
The protests started after an ill-advised bid by Yingluck's ruling Pheu Thai party to push an amnesty law through Parliament that would have allowed Thaksin's return from exile. The bill failed to pass after the upper house of parliament voted against it.
Because Yingluck's party has overwhelming electoral support from the country's rural majority, which benefited from Thaksin's populist programs, the protesters want to change the country's political system to a less democratic one where the educated and well-connected would have a greater say than directly elected lawmakers.
Thaksin lives in Dubai to avoid a two-year jail term for a corruption conviction he says was politically motivated.