Philippines President Duterte tells drug suspects: 'Want to live longer? Stay in jail'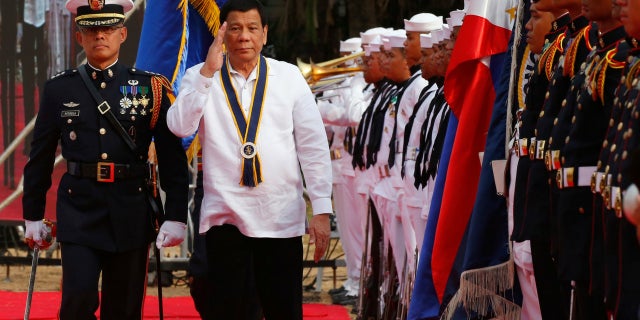 NEWYou can now listen to Fox News articles!
Philippines President Rodrigo Duterte has a message for drug suspects who hope to live longer: Stay in jail.
Duterte, 72, told drug suspects in a central Cebu province on Tuesday to look for a way to get arrested and then stay behind bars if they want to live longer. It is his latest threat in his bloody anti-drug crackdown.
Duterte did not identify the targets of his warning in a televised threat-laden speech, but referred to people who grew rich through illegal drugs in the province.
RODRIGO DUTERTE SAYS HE WILL STEP DOWN IN 2020 BECAUSE HE'S 'OLD,' WANTS 'REST'
"You know if I were you guys in Cebu, stay in jail. You want to live longer? Stay in jail," Duterte said. "Look for your own reason to be in jail. Do not go out of that facility. It would not be healthy for you."
There has been one case of a drug suspect who was shot to death by police in his jail cell. Rolando Espinosa, town mayor, was killed by police in 2016 in what was said to be a gun battle, but government investigators called it a murder. Murder complaints against an officer and his men involved in the shootout were later downgraded to a lesser charge that allowed them to be released on bail and reinstated into the force.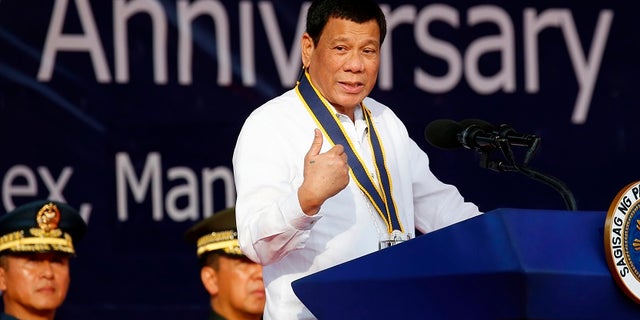 Duterte had a warning for officers who were involved in drugs.
"Some of them, sadly, are really into drugs ... most of all the policemen because they are aplenty. I'm just warning them that if you are into it, you will be the first to go," he said.
"It is no surprise that you are just also falling down one by one and the mayors and the village captains," he said.
PHILIPPINES' DUTERTE ORDERS FEMALE COMMUNIST FIGHTERS SHOT IN THE GENITALS, REPORTS SAY
"And to all of those criminals out there, to all those rogue policemen and all creating hell for us, I have yet sufficient time to correct all of these things," Duterte said. "You might not like the way how I correct things but I would just love to warn you that there's no turning back on this and I am there in the drug war in front."
The message was the latest in Duterte's crackdown on drugs. Since Duterte took office, police have said thousands of people have been killed in the war on drugs.
The Associated Press contributed to this report.