Philippine journalist critical of President Duterte arrested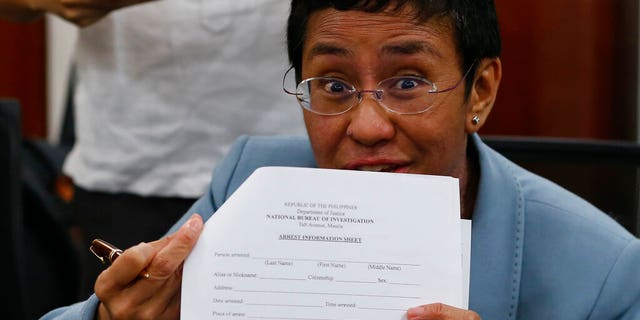 Maria Ressa, an award-winning journalist for a Philippine news site who has been critical of President Rodrigo Duterte's administration, was arrested Wednesday.
Ressa was escorted from the Rappler office to the headquarters of the National Bureau of Investigation after agents served a warrant late Wednesday.
She was arrested over a libel complaint from a businessman. Rappler, Ressa's employer, alleged that the businessman had been linked to illegal drugs and human trafficking, and a car registered in his name had been used by the country's chief justice.
​​​​​​PHILIPPINES' DUTERTE BLASTS STATE AUDITORS, SAYS HE WANTS THEM KIDNAPPED, TORTURED
"We are not intimidated. No amount of legal cases, black propaganda, and lies can silence Filipino journalists who continue to hold the line," Ressa said in a statement. "These legal acrobatics show how far the government will go to silence journalists, including the pettiness of forcing me to spend the night in jail."
PHILIPPINES PRESIDENT JOKES ABOUT SEX ASSAULT DURING SPEECH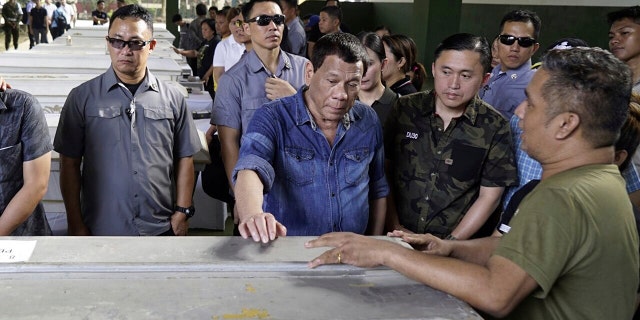 The businessman filed the libel complaint five years after the article appeared in 2012, and the law under which Ressa was charged by the government, the Cybercrime Prevention Act, did not go into effect until months after the article's publication, according to Rappler.
Duterte, who has waged an anti-drug campaign that has left thousands dead, has openly criticized journalists who have covered him in an unfavorable manner.
Amnesty International Philippines said Ressa's arrest was based on a "trumped-up libel charge."
CLICK HERE FOR THE FOX NEWS APP
"This is brazenly politically motivated, and consistent with the authorities' threats and repeated targeting of Ressa and her team," it said.
The Associated Press contributed to this article.