Petition seeks to ban Donald Trump from the UK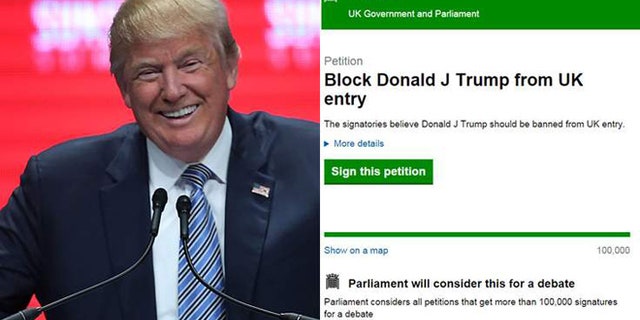 A petition calling for presidential hopeful Donald Trump to be banned from entering the UK has attracted more than 200,000 signatures and could be debated in the Commons.
It follows the Republican frontrunner's call for a "total and complete shutdown of Muslims entering the United States until our country's representatives can figure out what is going on".
Trump's comments, which have drawn condemnation at home and abroad, came in the aftermath a shooting by a radicalized couple in San Bernardino, California, that killed 14 people.
In the UK, the petition on the parliament website calling on MPs to impose a bar on Trump hit 200,000 signatures by 3.45pm.
A "heat map" suggests the constituencies of Bristol West, Bethnal Green and Bow and Holborn and St Pancras are among the areas where the most signatures have come from.
Once a petition reaches 100,000 signatures it is expected to be debated in the Commons, unless deemed unsuitable by the Commons petitions committee or unless the issue is being pursued "in another way".
Downing Street said any question of a ban on Trump coming to Britain was "hypothetical" as it was not aware of any plans for him to visit.
George Osborne, standing in for David Cameron during Prime Minister's Questions, was also cautious on the question of whether Trump should be banned.
He said: "I think the best way to confront the views of someone like Donald Trump is to engage him in a robust democratic argument about why he is profoundly wrong about the contribution of American Muslims and indeed British Muslims.
"That is the best way to deal with Donald Trump and his views rather than trying to ban presidential candidates."
David Cameron called Trump's proposal "divisive and unhelpful", Scottish First Minister Nicola Sturgeon has stripped Trump of his status as business ambassador for Scotland, while senior politicians in France and Canada have spoken out too.
Robert Gordon University in Aberdeen has revoked Trump's doctorate of business administration that he was awarded in 2010 after more than 70,000 people signed a petition calling for the university to act.
An alternative petition "Don't ban Trump from the United Kingdom" has been set up on the website, and has gained more than 1,200 signatures.
Across the Atlantic, Democratic frontrunner Hillary Clinton said the billionaire's comments aided terrorists.
"It's a shameful idea. It's also dangerous," she said.
"At a time when America should be doing everything we can to fight radical jihadists, Trump is supplying them with new propaganda."
Muslim leaders in the US have also criticized the 69-year-old.
"ISIS is to Islam what Donald Trump is to American values: a complete distortion of everything that we as a country and a society stand for," said Sohaib Sultan, Muslim Life Coordinator and Chaplain at Princeton University.
On Tuesday, the White House launched a rare attack on a presidential candidate as spokesman Josh Earnest called Trump's proposal unconstitutional.
"What Donald Trump said disqualifies him from serving as president," said Earnest, describing the remarks as "offensive" and "toxic".
Trump also earned the wrath of the United Nations.
Zeid Ra'ad Al Hussein, the UN High Commissioner for Human Rights, said the comments were "grossly irresponsible".
Despite the growing furor over the comments, Trump was unrepentant in a series of TV interviews on Tuesday.
He compared his idea to the internment of Japanese and Germans during World War II by Franklin Roosevelt.
On the charge that he was aiding IS propaganda, he said: "I'm the worst thing that's ever happened to ISIS."