Peruvian forces rescue 54 natives held in remote jungle by Shining Path remnants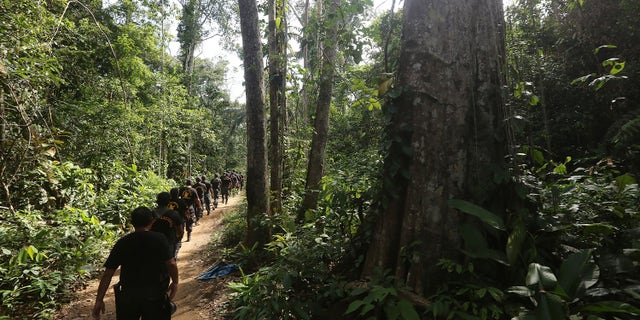 LIMA, Peru (AP) – Peruvian security forces rescued 54 adults and children, mostly members of the Ashaninka indigenous group, who had been held by Shining Path rebels in a remote jungle region, government officials said.
Anti-terrorism police chief Gen. Jose Baella said some of the adults were kidnapped between 20 and 30 years ago from Puerto Ocopa and nearby towns back when the rebel movement was still strong.
Baella said the women were used to produce child soldiers for the guerrillas and grow crops for them. The oldest of the 34 children was 14, he said Saturday.
Independent security expert Pedro Yaranga said the rescue was not a serious blow to the drug-trafficking Shining Path remnant that operates in the area, but does show how weak it has become.
"These children and the captive mass had been abandoned and were on their own, very far from the place where the columns and the camps of the rebels and their children are located," he said.
The group was rescued by a special forces unit comprised of soldiers and police in helicopter-borne missions on Friday and Monday, said Baella. Members of the group have been reunited with relatives they had not seen for decades, he added.
Baella said none were being immediately presented to the media. They were receiving medical treatment and being interviewed by prosecutors at the counternarcotics police base in Mazamari.
The rescued group was living in a various camps in thick jungle with a 50-meter (150-foot) canopy in a place called Sector V in the Satipo province of Junin state, officials said.
Two young Shining Path deserters who were raised in the camps had led authorities to them, and a total of 70 people have been rescued from such camps in the past year, said Baella.
Analysts estimate the Shining Path's strength at no more than 200 fighters.
It has been seriously weakened in recent years with the capture of top commander "Artemio" in 2012, and the killings of two top cadres the following year in a security force ambush.
Its last refuge borders Peru's main cocaine-producing region, the Apurimac, Ene and Mantaro river valley.
Last year, the group's two top leaders — brothers Victor and Jorge Quispe Palomino — were indicted in the United States on charges including conspiracy to commit narco-terrorism.