Pakistan oil tanker explodes, killing 153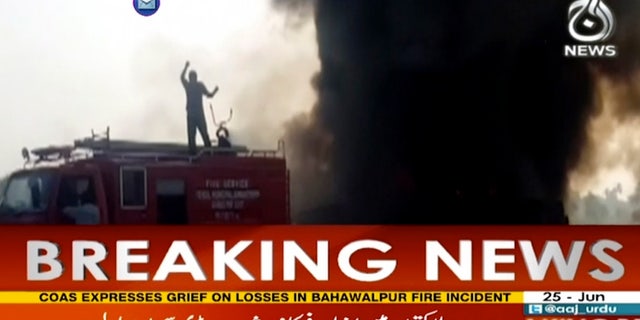 At least 153 people were killed Sunday when an oil tanker exploded in Pakistan, according to reports.
The tanker overturned after the driver lost control on a sharp bend on a road from Karachi to Lahore after the vehicle blew a tie. Drivers rushed to the site to collect the leaking fuel, which exploded after someone apparently lit a cigarette, Reuters reported, citing officials.
"People of the area and passersby had started gathering fuel when it exploded, burning everybody," provincial government spokesman Malik Muhammad Ahmed Khan told Reuters.
An estimated 20 children were among the dead, he said.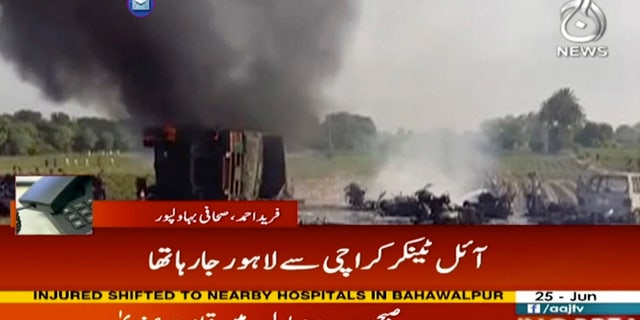 The accident blocked the road, causing a major traffic backup, and local police tried to clear the road before the explosion but motorists ignored the directive to get out of the area.
Many of the victims were burned beyond recognition, Khan said. He said they will have to be identified through DNA testing.
The death toll could rise further as another 50 people are still in critical condition, said Dr. Mohammad Baqar, a senior rescue official in the area. There were dozens of other injuries of varying degree, he said.
Local news channels showed black smoke billowing skyward and horrific images of scores of burned bodies, as well as rescue officials speeding the injured to hospital and army helicopters ferrying the wounded.
Saznoor Ahmad, 30, whose two cousins were killed in the fire, said the crowd of people screamed as the flames engulfed them.
As the wounded cried out for help, residents wandered through the area looking for loved ones.
Zulkha Bibi was searching for her two sons.
"Someone should tell me about my beloved sons, where are they? Are they alive or are they no longer in this world? Please tell me," she pleaded.
The deadly explosion came on the eve of Eid al-Fitr, as families were celebrating the end of Ramadan.
Mohammed Salim ran toward the smoke, carrying buckets of water and sand, but said the heat was too intense to reach those in need.
"I could hear people screaming but I couldn't get to them," he said.
Abdul Malik, a local police officer who was also among the first to arrive, described a "horrible scene."
"I have never seen anything like it in my life. Victims trapped in the fireball. They were screaming for help," he said.
When the fire subsided, "we saw bodies everywhere, so many were just skeletons. The people who were alive were in really bad shape," he said.
Witnesses said about 30 motorcycles that had carried villagers to the accident site lay charred nearby. Eight other vehicles were destroyed, they said.
Some of the most badly burned were evacuated by army helicopters to Multan, about 60 miles (100 kilometers) away.
The Associated Press contributed to this report.