Ousted Kyrgyz president charged with mass killing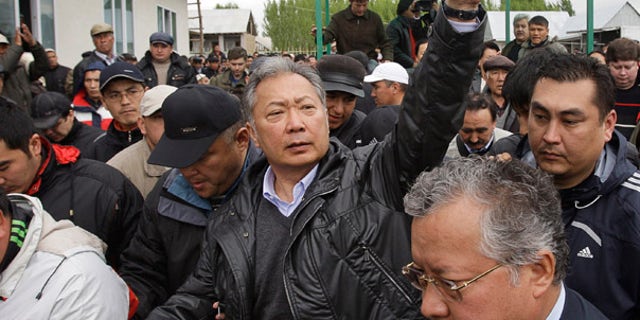 BISHKEK, Kyrgyzstan – BISHKEK, Kyrgyzstan (AP) — The ousted president of Kyrgyzstan has been charged with organizing mass killings in the deadly uprising that forced him from office in this Central Asian country earlier this month, the leader of the interim authorities said Tuesday.
Kurmanbek Bakiyev, who is in exile in Belarus, will have his presidential immunity stripped to face the Kyrgyz charges, which also include abuse of power, said Azimbek Beknazarov, a vice-premier of the opposition forces that claimed provisional control of the country.
Bakiyev fled the capital on April 7 after security forces fired on protesters and the demonstrators stormed government buildings. At least 85 people died in the violence.
He tried to rally support in his home region in Kyrgyzstan's south, but eventually fled the country and surfaced last week in Belarus.
Beknazarov said Belarus is obliged to extradite Bakiyev under an agreement among former Soviet countries. There was no immediate reaction from Belarus, whose authoritarian president, Alexander Lukashenko, has criticized the demonstrations that drove out Bakiyev.
Bakiyev insists he is still Kyrgyzstan's legitimate president, but has vowed not to return to the country as its leader.
Stability in Kyrgyzstan is a significant concern for the United States and Russia, both of which have air bases in the country.
The U.S. air base is a key piece of the NATO military campaign against the Taliban in Afghanistan; it provides refueling flights for warplanes over Afghanistan and is a troop transit point.