Our American Dream: Wounded Warrior's Bond With Dog Saves Both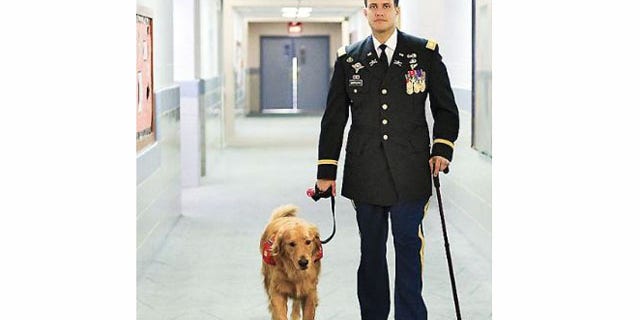 Across the United States, in all fields of endeavor, Latinos are working to uphold their place in American society. Fox News Latino is proud to present "Our American Dream," a series of snapshots and profiles of Latino success stories.
Former Army Captain Luis Carlos Montalván and Tuesday are inseparable.
Montalván, who struggles with Post Traumatic Stress Disorder, or PTSD, has gone to places he would have never been by himself because of Tuesday – an irresistible golden retriever that is considered an ECAD (Educated Canines Assisting with Disabilities).
Montalván and Tuesday take on New York City on a daily basis. But man and best friend also take on a more tangible challenge, too – the Department of Veterans Affairs.
"A complete an utter overhaul of the Department of Veterans Affairs needs to happen," Montalván said.
Montalván, who has Cuban and Puerto Rican roots, enlisted in the United States Army when he was 17-years-old. During his childhood, while other kids dreamed of other professions, Montalván had no doubts about his aspirations.
"I pretty much, right away, fell in line with being a soldier," he said.
Montalván realized his dream and joined the military, and was eventually deployed to Iraq.
He was known as the "terminator," primarily because he could work for over 18 hours at a time without getting tired. Montalván lived through explosions, and all the atrocities that sadly come with it.
He, too, experienced brain injury and combat wounds. The anguish of all those life-altering events manifested into the PTSD.
Montalván endured, but wasn't doing well – until Tuesday came into his life, that is.
After getting out of the Army, he enrolled in graduate school, and wrote the book "Until Tuesday."
It takes the reader on a journey through life-changing events, including the day Montalván met his beautiful golden retriever, courtesy of an email he received in 2008 from the Wounded Warrior Project and Puppies Behind Bars.
Montalván attended the training sessions at the ECAD's facility, unaware Tuesday would be his dog. Tuesday seemed to be the most disconnected of the canines, and certainly wasn't Montalván's first choice.
It wasn't that Tuesday was a bad dog, just distracted and unwilling to follow basic commands because he was so incredibly affectionate and eager to play. In fact, during the Puppies Behind Bars training program it was predicted that Tuesday wouldn't make it through because he was such a lover, and perhaps lacked the discipline needed to be a guide.
Montalván and Tuesday appeared destined to be apart, until they actually met at the command. Montalván could see the pain in Tuesday's eyes from the abandonment of the prison trainers who left him behind when they got out; Tuesday, meanwhile, could see all the battle wounds in Montalván's eyes.
Now Montalván and Tuesday walk together through life in a bond that can only be described as divinely appointed.
"Until Tuesday" is a heart-warming story that encapsulates the events leading to healing for both Montalván and Tuesday. It inspires hope, healing and brings understanding to anyone who has had traumatic events in their life.
For more information on "Until Tuesday," go to: http://www.until-tuesday.com/
Click here for more good news stories.
GiGi Erneta is a freelance writer and a regular contributor to Fox News Latino.
Follow us on twitter.com/foxnewslatino
Like us at facebook.com/foxnewslatino