Otto Warmbier dead; former US prisoner of North Korea was 22
NEWYou can now listen to Fox News articles!
Otto Warmbier, the American student who was detained and held in North Korea before being returned back to the U.S. earlier this month, has died, according to his family. He was 22 years old.
News of Warmbier's death follows reports from doctors that he had suffered extensive brain damage and was unresponsive to his surroundings. Officials from the University of Cincinnati Medical Center, which treated the student upon his return, labeled his condition as a "state of unresponsive wakefulness."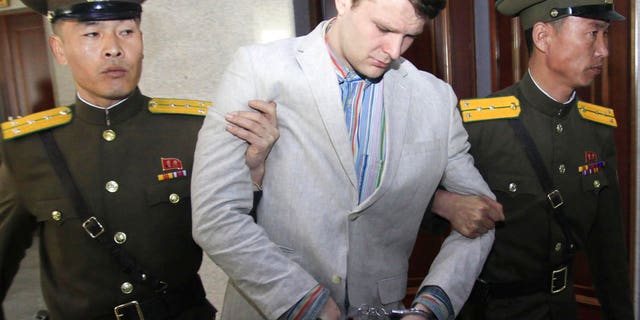 While there was no physical evidence he was beaten, doctors said that Warmbier had suffered "extensive loss of brain tissue," suggesting he had lost blood supply to his brain for a period of time.
The North Koreans told U.S. officials that Warmbier had suffered from botulism and then slipped into a coma after taking a sleeping pill but Cincinnati doctors said that their examination showed no evidence of botulism, the strong neurotoxin produced by a bacterium.
OTTO WARMBIER HAS EXTENSIVE BRAIN DAMAGE, DOCTOR SAYS
"It is our sad duty to report that our son, Otto Warmbier, has completed his journey home," Fred and Cindy Warmbier wrote in a statement. "Surrounded by his loving family, Otto died today at 2:20 pm.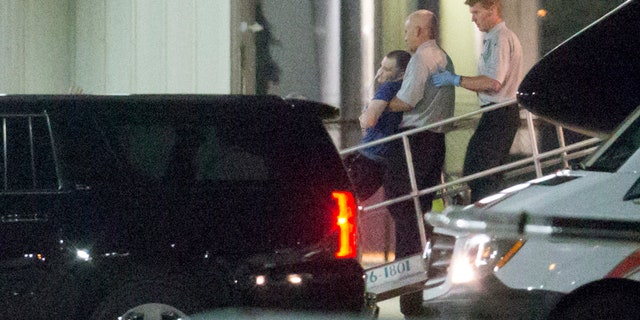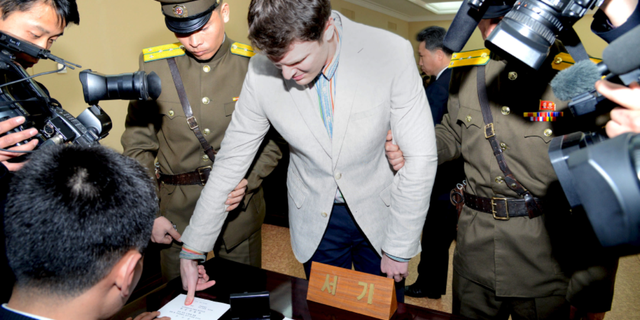 "It would be easy at a moment like this to focus on all that we lost - future time that won't be spent with a warm, engaging, brilliant young man whose curiosity and enthusiasm for life knew no bounds. But we choose to focus on the time we were given to be with this remarkable person. You can tell from the outpouring of emotion from the communities that he touched - Wyoming, Ohio and the University of Virginia to name just two - that the love for Otto went well beyond his immediate family.
"We would like to thank the wonderful professionals at the University of Cincinnati Medical Center who did everything they could for Otto. Unfortunately, the awful torturous mistreatment our son received at the hands of the North Koreans ensured that no other outcome was possible beyond the sad one we experienced today.
OTTO WARMBIER'S INJURIES RENEW FOCUS ON NORTH KOREA'S INFAMOUS TORTURE CAMPS
"When Otto returned to Cincinnati late on June 13th he was unable to speak, unable to see and unable to react to verbal commands. He looked very uncomfortable - almost anguished. Although we would never hear his voice again, within a day the countenance of his face changed - he was at peace. He was home and we believe he could sense that.
"We thank everyone around the world who has kept him and our family in their thoughts and prayers. We are at peace and at home too."
President Trump issued a statement on Warmbier's death, stating that nothing is "more tragic" than for a parent to lose a child.
"Melania and I offer our deepest condolences to the family of Otto Warmbier on his untimely passing," the president said. "There is nothing more tragic for a parent than to lose a child in the prime of life. Our thoughts and prayers are with Otto's family and friends, and all who loved him.
DOCS UNSURE HOW OTTO WARMBIER SUFFERED 'NEUROLOGICAL INJURY'
"Otto's fate deepens my Administration's determination to prevent such tragedies from befalling innocent people at the hands of regimes that do not respect the rule of law or basic human decency. The United States once again condemns the brutality of the North Korean regime as we mourn its latest victim."
Sen. Rob Portman, R-Ohio, labeled Warmbier a "promising young man" while Sen. Sherrod Brown, D-Ohio, said that the "strength and love" of the Warmbier family "continues to inspire us all."
Warmbier was medically evacuated from North Korea on June 13 following diplomatic talks at the top of the U.S. government. A former University of Virginia student, he was serving a 15-year sentence in North Korea for allegedly attempting to steal a banner containing a political phrase that was hanging from a wall in his Pyongyang hotel.