Opposition seeks foreign probe into Sri Lanka protest deaths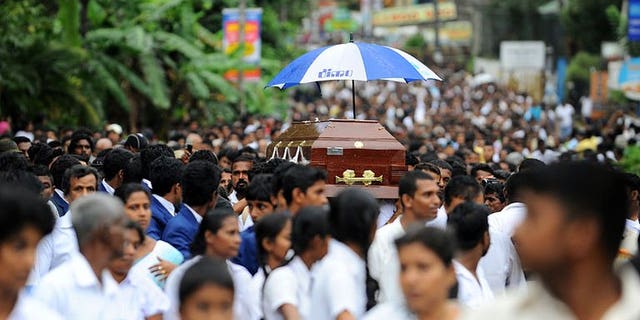 NEWYou can now listen to Fox News articles!
COLOMBO (AFP) – Sri Lanka's opposition Tuesday demanded an international investigation into a deadly army crackdown on villagers who were demonstrating against contaminated water supplies.
The United National Party (UNP) criticised the army's plans for an internal military probe into the death of three civilians and wounding of 50 others during a protest at Weliweriya village near Colombo last week.
"We cannot accept the government getting one of its henchmen to probe the killings," UNP general secretary Tissa Attanayake told reporters in Colombo. "Innocent civilians have been massacred."
The military opened fire Thursday on thousands of unarmed residents who were protesting against the contamination of their ground water supply, allegedly by chemical waste from a rubber glove factory.
Attanayake said the attack was a direct assault on democracy and people's right to peaceful protest.
He said the opposition was pressing for an "independent international inquiry" into the incident, a demand echoed by London-based Amnesty International.
The rights group said Sri Lanka's army should not be allowed to investigate itself over the attacks against civilians.
"The Sri Lankan army should have never been policing unarmed demonstrators in the first place," Polly Truscott, Amnesty International's Deputy Asia-Pacific Director, said in a statement.
"Having them investigate their own alleged abuses is simply ridiculous," she added.
The statement came after Sri Lanka's army announced that it had appointed a five-member panel headed by a major-general to probe the incident.
Hundreds of opposition activists took to the streets in Colombo on Monday to denounce the military assault against civilians.
A Roman Catholic priest in Weliweriya, Lakpriya Nonis, said troops stormed his St Anthony's church shortly after Thursday's protest and attacked men, women and children who had sought refuge there.
The army has said it was forced to respond after coming under attack with petrol bombs.
Two people were still at the main hospital in Colombo while several others were being treated in surrounding hospitals, hospital spokeswoman Pushpa Soysa told AFP.
The shootings came ahead of a visit to the island by United Nations rights chief Navi Pillay later this month.
Pillay is due in Colombo on August 25 on a five-day visit in connection with allegations that Sri Lankan troops killed up to 40,000 civilians in the final stages of an ethnic war against Tamil rebels in 2009.
Sri Lanka has denied that its troops were responsible for killing civilians or committing any war crimes.